This Summer's Box Office Will Be One For The Record Books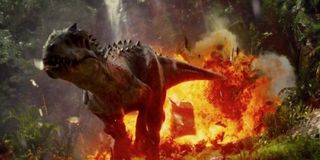 With everybody, including Hollywood, getting ready for the Labor Day Weekend, the "summer movie season" is about to wrap up. It's been a summer with some of the biggest box office hits of all time. However, while it's certainly a record-breaking summer, it isn't quite the biggest one ever.
In examining the likely outcome of this weekend's box office race (spoiler alert: Straight Outta Compton has owned most of the last month), Variety reports that if things shake out as expected, 2015 will finish up as the second biggest summer movie season ever. The report states:
Hollywood can thank the gargantuan powerhouses that were Jurassic World and Marvel's Avengers: Age of Ultron for doing much of the heavy lifting. This wasn't really a summer of a box office in a general sense, so much as it was the summer of a couple studios. Universal is already setting records for the year, with more than a quarter left to go, while Disney is also putting up strong numbers across the board. On the other hand, Sony has had an absolutely terrible year, and their summer was no different. If Sony had gone on summer vacation entirely, the box office numbers would not be much different.
But with Jurassic World and Avengers: Age of Ultron already in the all time domestic top 10, why wasn't it enough to be the biggest summer ever? A quick review of the box office numbers (over at Box Office Mojo) tells the story, and it all becomes really obvious really fast. While there were a couple of absolutely huge movies this year, and a few other big ones, the rest of the box office didn't hold up their end of the deal. Summer 2015 has 12 movies that have done over $100 million in the U.S., while summer 2013 had 19. There's also a huge number gap that didn't exist two years ago. Number 4 on this summer's box office is currently Minions at $325 million. The spot below that is Pitch Perfect 2 at $183 million. That gap really made the difference as 2013 saw a number of movies finish up around $200 million. It just goes to show that slow and steady really does win the race.
So now the hype train sets a heading for the summer of 2016. The start of Marvel's Phase 3 and DC's first steps into their own cinematic universe will be the headline stories going in. Will it be enough to be the biggest summer movie season ever? We've got a year to discuss before we find out.
CinemaBlend's resident theme park junkie and amateur Disney historian. Armchair Imagineer. Epcot Stan. Future Club 33 Member.
Your Daily Blend of Entertainment News
Thank you for signing up to CinemaBlend. You will receive a verification email shortly.
There was a problem. Please refresh the page and try again.