How Ant-Man Actually Sets Up Marvel's Phase 3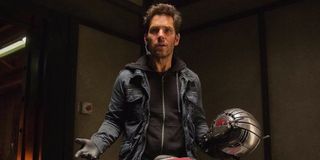 With all the hype and build-up surrounding the release of Avengers: Age of Ultron back in May, as well as all the focus on the now filming Captain America: Winter Soldier, the upcoming Ant-Man often feels like it's been lost in the shuffle. However, it occupies a place of great importance in the Marvel Cinematic Universe, and studio president Kevin Feige revealed how it sets up the soon-to-launch Phase 3.
Many fans have been wondering just how Ant-Man fits into the larger MCU picture. Feige, talking with The Hollywood Reporter, said that while many people expected Phase 2 to end with Age of Ultron (Phase 1 wrapped up with The Avengers), Ant-Man is the true conclusion of Phase 2 and serves to establish much of what we'll see in Phase 3. He said:
We've already seen images of Paul Rudd, who plays Scott Lang, a.k.a. Ant-Man, on the set of the superhero-packed Civil War, which is the starting point for Phase 3 of the MCU, so it was obvious he is going to play a part moving forward. What we weren't certain of, however, was just how big a part—aside from that film, we don't know where he'll show up next, and there's no second solo movie on the slate right now.
From Feige's statement, however, we can expect to see him show up at least in some key places. We still don't know where, but the Avengers: Infinity War movies are a safe bet, and as the MCU continues to expand into deep space, you can bet that bit about going to places so distant that it's hard to conceptualize is going to come into play big time.
As far as Ant-Man goes, the story follows Scott Lang (Paul Rudd), a master thief who uses a special suit created by his mentor, Dr. Hank Pym (Michael Douglas), to shrink in size but increase his power. Against crushing odds, the two must use their abilities to pull off a daring heist that will save the world from "a new generation of towering threats." We know at least one of these will be Corey Stoll's villain Yellowjacket, but there are bound to be some obstacles we haven't even considered yet.
Ant-Man hits theaters everywhere July 17.
Your Daily Blend of Entertainment News