Superman Travels To Washington For Crucial Dawn Of Justice Scenes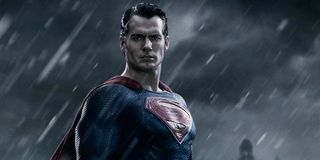 Sequels usually mean new locations – big and better locations – to step up the drama and ratchet up the stakes. The Nakatomi Plaza gives way to Dulles airport, which gives way to the entire city of Manhattan (in the Die Hard formula), to name one such example. And when it comes to Man of Steel it sounds like Superman is going to venture from Smallville and Metropolis to the streets of our nation's Capital, Washington, DC.
The team over at Batman-News has this scoop, saying that photographs snapped on the set of Zack Snyder's Batman v. Superman: Dawn of Justice show taxi cabs, buses and Metro DC police cars – indicating scenes that will take place in DC. In fact, the site has a major reveal which we will hide behind a spoiler warning. So if you don't want to know any more about Batman v. Superman, and a possible scene, stop reading now.
Still here? OK, so, the site reports that there will be a major scene involving Kal-El and the U.S. Capitol Building. Superman, they are reporting, will have to answer to the U.S. government for the damage caused at the end of Man of Steel. They say that half of the citizens in our country still blame Superman for that death and destruction, because they believe that if Superman hadn't come to Earth, General Zod (Michael Shannon) wouldn't have come looking for him.
This feeds into the stories we have been reading that claim there will be a strong anti-Superman vibe flowing through Dawn of Justice. That's likely going to lead to Batman (Ben Affleck) being the clear-cut hero at the start of this movie. Even though Snyder made strides toward making Superman a hero, and less of a threat, at the end of Man of Steel. Remember this scene?
Of course, you mention Superman going to Washington, DC and I immediately drift back to this classic scene:
And you get the diner fight as an added bonus. Getting Superman out of Kansas was essential. And I'm glad to hear that Batman v. Superman will branch out of Gotham and Metropolis, as well. Will we get an on-screen president, as well? Stay tuned.
Managing Director at CinemaBlend. ReelBlend cohost. A movie junkie who's Infatuated with comic-book films. Helped get the Snyder Cut released, then wrote a book about it.
Your Daily Blend of Entertainment News
Thank you for signing up to CinemaBlend. You will receive a verification email shortly.
There was a problem. Please refresh the page and try again.