Sydney Pollack Dead At 73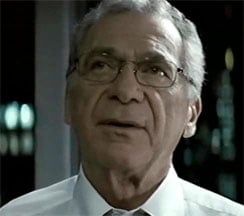 Depressing news to wrap up the holiday weekend. Well known director and actor Sydney Pollack died this Monday at the age of 73 in his Los Angels home. According to the AP, he'd been fighting cancer for the past nine months, though to some that may come as a shock. Who'd have thought he'd be outlived by Wilford Brimley?
If his name isn't instantly familiar to you, his face will be. His last role as an actor was in the recently released Made of Honor, where he steals scenes as Patrick Dempsey's frequently married father. He also had a major role in the 2007 Clooney Oscar contender Michael Clayton. It's almost a shame that Pollack's career had to end with Made of Honor, he was so much more than a bit player in an awful rom-com retread.
As a director he was responsible for some of Hollywood's biggest critical and financial hits. He directed such films as the 1982 Dustin Hoffman classic gender-bender Tootsie and the career defining Tom Cruise smash The Firm. Pollack had worked steadily in Hollywood since the 60s, directing and acting in dozens and dozens of major film and television projects. He's been particularly visible lately, with a role in the 2007 critical darling Michael Clayton. Sydney Pollack has been one of the most respected fixtures in the film industry for decades, and he will be missed.
Your Daily Blend of Entertainment News
Thank you for signing up to CinemaBlend. You will receive a verification email shortly.
There was a problem. Please refresh the page and try again.