TIFF: Ben Affleck And His Cast Talk Accents And Gray Hair For The Town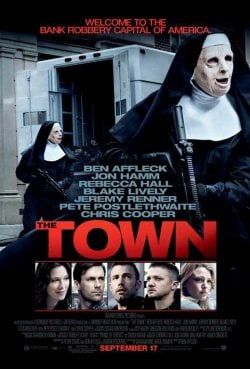 "I have a little bit of gray in my hair, yes," Ben Affleck was forced to confess at the beginning of today's Toronto press conference in honor of The Town. It was the typical press conference question-- inane, overly personal, instantly making everyone else sitting up at the table a little uncomfortable-- but what are you to expect when you're a former matinee idol asking everyone to take you seriously as a real director. Affleck could probably get advice from fellow TIFF directors Robert Redford and Clint Eastwood, but he pulled it off just fine with a joke of his own: "I started directing movies and it grave me gray hair. And my brother-- those things give you gray hair."
Affleck also eked his way through another question about brother Casey's TIFF film I'm Not There, delicately saying that the maybe-faux documentary about celebrity "leads you to some questions which merit answers," and teased that he and Casey "are about to start writing a movie together, I"m told." But otherwise the chatter stuck to The Town, with most questions lobbed at Affleck and Jon Hamm (who plays the FBI agent tracking down the bank robbery ring at the center of the film). I felt a little bad for Jeremy Renner, who puts in the film's real start performance and clearly isn't a big enough celebrity for the press conference attendees, but he seemed to be happily playing Hangman or something like it with Blake Lively, sitting next to him, so I think he made it through OK.
The cast fielded a lot of questions about mastering the Boston accents-- everyone but Hamm has some kind or another going on-- with Affleck admitting, "If you don't do them well, it can really upend your movie." Apparently he helped his cast nail the accents in a number of ways, from sending Blake Lively to hang out with the local Charlestowne girls who inspire her character to sending Renner tapes of local criminals talking-- Renner seemed a little bitter that there hadn't been a dialect coach for him early on, but said once they arrived in Boston there were "resources out the wazoo" for learning the local culture.
One of the film's standout scenes is a car chase through the tangled streets of Boston's tony North End, which Affleck said was as difficult to shoot as it is impressive to watch. Admitting to all the issues they had blocking off the streets, from hurting the area's tourism income to constant delays thanks to weather, Affleck joked "this movie is nothing if not a long apology to the people of the North End." Affleck also seemed to think he owed a little apology to Michael Mann's Heat, which he confessed "looms quite large over this movie. We had to work hard not to make it too close."
Somehow Hamm wound up fielding a question about facing rejection early on in acting careers-- I'm telling you, these questions were all over the place, and he diplomatically responded that "none of us would be here if we didn't have particularly thick skin. Most of acting is about being rejected." That seemed to be on Affleck's mind as well when he answered a question about why he didn't cast wife Jennifer Garner in the film; with a wry smile, he said "Something tells me that people don't want to see real life couples act together in movies." Trust the man who survived Gigli when he says that.
The Town opens next week, September 17, and so far is one of my favorite films I've caught at Toronto (read my review here). The press conference didn't really provide any deep answers to help explain why the movie works so well, but that's not really what these things or for-- the chance to have a direct view of Jon Hamm for half an hour, and to witness Affleck's full transformation from ego-fueled movie start to humble and funny director of affecting movies, was enough for me for the day.
More Cinema Blend coverage from the 2010 Toronto International Film Festival right here.
Staff Writer at CinemaBlend
Your Daily Blend of Entertainment News
Thank you for signing up to CinemaBlend. You will receive a verification email shortly.
There was a problem. Please refresh the page and try again.