Take A Detailed Look At The Ghostbusters' New Proton Pack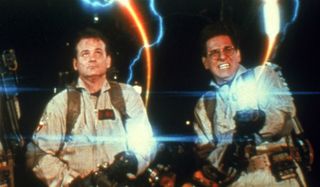 If you still think Paul Feig is ruining your childhood with his all-female Ghostbusters reboot, perhaps this will help ease your worries. As the Bridesmaids director continues production with his stars Melissa McCarthy, Kristen Wiig, Kate McKinnon and Leslie Jones, he has been releasing photos of the costumes online via Twitter. The latest one featured a look at the proton packs the phantom fighters will be wielding, but to give you a better idea of the lore behind it and to appease the fans, Feig re-released the image with a few more details.
Much like how people Photoshopped the names of the actors onto the first black-and-white shot of the Star Wars: The Force Awakens cast — because, that's what you do with first photos of highly anticipated cinematic events, you analyze the shit out of them — Feig turned his photo into a cheat sheet. What we've got right here is your standard Plasma Ignition Chamber attached to the Hydrogen Ionization Chamber and Proton Injector through a High Voltage RF Feed. You've also got your Power Cell, your RF Amplifier, your Spectral RF Feedback Parameter Display, and your Radiation Shielded Postier Interface. Everything you'll need to take down a ghost is expertly crafted into the ultimate weapon.
When word first got out that Feig was working on a female version of the ghost-fighting team, tons of fans were thrown into a tantrum. Some even bashed the filmmaker for ruining their childhoods (yeah, I wasn't kidding about that), and this was even before we saw anything from the film. The responses Feig received on Twitter after posting the notated photo are overwhelming positive. Sure, there are a couple detractors here and there, but overall the fans appreciate the level of detail that he's taking in making sure the mythos is spot on.
The plot for this new spin on Ghostbusters is currently unknown, but recently production cast Andy Garcia of Ocean's Eleven and Michael K. Williams of Boardwalk Empire. Garcia is said to play the Mayor of New York City, while Williams is said to play a character named Hawkins. Elsewhere, Veep and Upright Citizen Brigade's Matt Walsh will play a character named Rourke, news anchor Pat Kiernan will play a news anchor, Thor star Chris Hemsworth will play the new secretary for the Ghostbusters, and Neil Casey is set up as the film's villain. Filming took place in New York City with more work being done in Boston, and the paparazzi have already snapped dozens of sneaky shots of some of the cast members in action.
Ghostbusters is set for release on July 22, 2016, and another male-dominated version is also in the works for Captain America: Civil War helmers Joe and Anthony Russo.
Your Daily Blend of Entertainment News