Tattoos, Vegas Crowds And Rodney Dangerfield: Jim Carrey And Steve Carell Talk Burt Wonderstone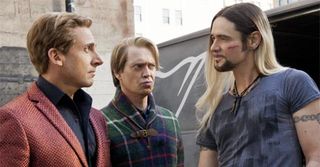 This weekend two of the world's biggest comedic stars will be going head to head in Don Scardino's The Incredible Burt Wonderstone. In one corner there's Steve Carell, starring as the titular illusionist, who after years of success has let his act – and his friendship with partner Anton Marvelton (Steve Buscemi) – go stale. And in the other corner there's Jim Carrey, playing a David Blaine/Criss Angel riff named Steve Gray, whose act isn't so much about "tricks" as it's about inflicting as much pain on himself as possible.
But before the duo's new movie arrives in theaters this weekend, the duo was in Las Vegas as part of a press event to talk about their latest collaboration (which fans will notice is their third after Bruce Almighty and the animated Horton Hears A Who).
At the top of the press conference, held at the Paris Las Vegas Hotel & Casino, the actors and filmmakers on stage, which also included Buscemi, Olivia Wilde, and screenwriters John Francis Daley and Jonathan Goldstein, were asked what they saw if they saw any similarities between their professions and the ones that they portrayed on screen. And while Carell sees a comparison in that both work to disguise reality and "represent things that are not necessarily who they are," Carrey actually sees more of a negative side to the illusionist's performance.
"I think magicians are a lot more arrogant," Carrey said. "That's what bothered me about magicians growing up. I was always fascinated by it growing up, they're kind of like, 'Abracadabra, you're an idiot!' They don't let you in on the joke. Comedians are in on the joke, unless you're Andy Kaufman."
While he may have his own personal issues with the idea, however, that doesn't mean he didn't work to bring his full creative force to Burt Wonderstone. Not just going at the character from a psychological stand-point – saying that Steve Gray has a "Christ complex" – he also contributed to the look by designing the tattoo that the character so proudly sports on his back.
"I'm an artist and the insignia with the rabbit with the skull, my makeup artist, Academy Award winning Billy Corso, helped me bring it to life and refine it," Carrey said. "That was thrilling. The first time any of my art has crept into a film. It's amazing all these little touches you have to do to be a completely different person."
Getting assistance from professional outside help didn't stop at the Ace Ventura stars tattoos. Early in the film, Burt and Anton perform a trick during their act called The Hangman that was actually designed by David Copperfield - who also has a small cameo in the film. What's really impressive about it, though, is that the crew didn't use any camera tricks or effects to alter the illusion. But Carrell had to work hard on his own magic abilities as well.
"In terms of sleight of hand, we worked for several months beforehand with various professional who tried to get us to the point where we could replicate," he said. "These guys are so great at what they do, and its years and years of practice. Just to get to the point where it look at least plausible is what I hoped to get. I thought Jim got really good with the fanning of the cards."
Difficult as that was, one element that was surprisingly problem free was shooting on the streets of Las Vegas. While logic would dictate that everybody would want to see a major Hollywood film being made with big stars, the filmmakers actually had a hard time trying to get people to come watch the movie's big Hot Box stunt.
"There is obviously a different vibe in Las Vegas, and at several times I walked around in full hair and makeup, and costume and no one batted an eye," Carrell said, laughing. "On the poster, it looks absolutely ridiculous, but, it's not really ridiculous in the context of Las Vegas. For example, we were suspended almost 60-foot above Las Vegas Boulevard in a Plexiglas box on the Las Vegas strip and we didn't even gather a crowd. We tried to get a crowd. We wanted extras and didn't want to pay for them! We figured people would just gather and we'll shoot that. Nobody cared! That told us a lot about our environment."
Sharing his own story about the city, Carrey reflected on a time early in his career when he performed stand-up alongside the legendary Rodney Dangerfield at Caesar's Palace. According to the star, as time passed he began to evolve his act and go to stranger places by starting to dress weird and "[imitate] cockroaches avoiding vacuum cleaners."
"I totally lost the audience, which of course I planned to do from time to time. Rodney Dangerfield used to stand backstage and howl with laughter at my failure. I'd come off stage and he'd say, 'Man, they're looking at you like your from another planet,'" Carrey said, punctuating with a pitch-perfect Dangerfield impression.
Despite all of the highs and lows of their careers, both stars are still miles away from the Burt Wonderstone character, who has let all of his success go to his head and empty his life.
"There are so many highs, I find myself working with guys like this, there's moments in your life where you go, 'I can't believe how insanely lucky I am.' And then you can turn around and the next comment you can feel so completely caught up in your own wanting and desiring and needing and feeling like you're missing something -- the higher the high, the lower the low," Carrey said.
"I'm always astounded that I've ever played a leading character in anything and my wife concurs with that," Carell added later. "I always thought I'd be at best the wacky neighbor on a sitcom. This is all a surprise and a joy."
The Incredible Burt Wonderstone opens in theaters this Friday.
Assistant Managing Editor
NJ native who calls LA home and lives in a Dreamatorium. A decade-plus CinemaBlend veteran who is endlessly enthusiastic about the career he's dreamt of since seventh grade.
Your Daily Blend of Entertainment News
Thank you for signing up to CinemaBlend. You will receive a verification email shortly.
There was a problem. Please refresh the page and try again.