Taylor Lautner Probably Back For New Moon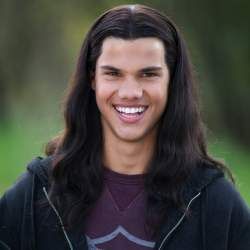 Those of us who just barely managed to get a grip on the Twilight mania, with its confessions of love for Edward and "lion fell in love with the lamb" tattoos, probably aren't prepared for Team Edward vs. Team Jacob. But in New Moon, the next book in the series and the movie that begins filming in March, minor character Jacob (played by Taylor Lautner in Twilight) is elevated to romantic rival for Bella's affections-- oh, and a seven-foot-tall hulking werewolf.
As a result Lautner, who's just 16, may not get to play the role in the second movie. Rumors have been flying for weeks among those who care about such things, and even fans of the character had decided that baby-faced Lautner wouldn't be right for the second film. But now Entertainment Weekly, which has followed the Twilight phenomenon about as well as most teenage girls, is saying that Lautner will probably be on set come March. "Everyone would love to keep him. We all think he's the loveliest person ever," screenwriter Melissa Rosenberg told them.
An unnamed "insider" also said, "'I'm very hopeful. We're not looking at anybody else.'' Even though Lautner didn't become quite the same heartthrob that Robert Pattinson did when the movie was released, it seems to make the most sense to stick with what worked the first time, especially since the CGI budget will probably be big enough this time to make Lautner look as convincingly hairy as he needs to be. Maybe they'll work on that vampire sparkle effect while they're at it.
Staff Writer at CinemaBlend
Your Daily Blend of Entertainment News
Thank you for signing up to CinemaBlend. You will receive a verification email shortly.
There was a problem. Please refresh the page and try again.