Tears Of God Director Robert Hillyer Barnett Talks Kickstarting An Independent Movie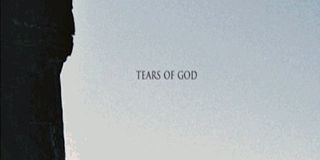 Kickstarter has proven to be one of the more popular crowdfunding platforms for independent filmmakers these days. Whether it's a heavily publicized big budget venture or a lower budget film from an up-and-coming filmmaker, crowdfunding is one way to rally financial support, as well as interest in a developing project. As movie fans, some of us may have kicked in some money toward interesting projects at Kickstarter, but what is it like to fund a film that way from the filmmaker's perspective? We spoke with with Robert Hillyer Barnett about that very subject. Barnett is currently in the process of making a film called Tears of God. It's described as an atmospheric feature-length fable about possession, death and mourning in a rural community. Its Kickstarter campaign is up and running, with a little more than a week to go.
Barnett said they decided to fund Tears of God through Kickstarter both out of necessity and a desire to build an audience of people who might be interested in the film. From a backer's perspective, there's certainly something to be said for getting to contribute to someone else's art and Kickstarter allows us to do that, especially if it leads to the film being completed. Barnett spoke about that a bit when talking about the benefit of contributing to a Kickstarter campaign. "I think it is much more rewarding to the audience as well to know that they've helped bring a unique film into the world that otherwise wouldn't exist." Barnett said. "Or at least exist with the kind of production value we are striving for."
While this isn't Barnett's first experience funding a film through Kickstarter — he was involved with a Kickstarter campaign to raise $700 for a film called Holy God Holy Mighty Holy Immortal Have Mercy Upon Us — the campaign for Tears of God is seeking significantly more money, with the goal set at $23,000. Currently, there are nine days to go and with 78 backers, they've raised over $6000. While $23,000 is certainly higher than $700, it's still far less than some projects funded through Kickstarter. The Veronica Mars movie set its goal at $2,000,000 and raised over $5,700,000. And Zach Braff's Wish I Was Here, which just debuted at Sundance, aimed for $2,000,000 and ended up coming away with over $3,100,000 from backers. Of course, these were projects involving people with pre-established fan bases and they were much more heavily promoted than the average independent film on Kickstarter. Barnett talked a little bit about that and how he's seeking a very specific audience for Tears of God:
One of the things involved in the process of setting the goal is obviously trying to determine how much money to try to raise. Kickstarter is an all-or-nothing situation. Meaning, if a campaign is successful and it raises — at minimum — the set goal amount of money, the contributors are charged and the project creator gets the money. But if the project fails to reach its goal, contributors aren't charged and the project creator doesn't get any of the money. So it's necessary to set a goal that is reachable but that is also enough to allow the filmmaker to do what they need to do to get the film finished. Barnett talked to us a little bit about how they set their goal for this film and what they're planning to do with the money if the campaign is successful:
As of right now, they've shot about 15 minutes of Tears of God. All of what they filmed involves Samuel T. Herring's character and it was shot in an abandoned heatless movie theater — during a blizzard — in Mars Hill, North Carolina. "His band Future Islands is about to go on a massive tour with the release of their new album and this was our only window to get him shot out," Barnett told us. "His scenes are wild and shocking. I'm excited to see peoples' reaction to them."
Barnett told us the rest of the movie is going to be shot during the first couple of weeks of February, and that's what they're hoping to raise money for. "We are planning on an early secret screening in late summer before it enters the festival circuit," Barnett said. That screening is actually one of numerous pledge incentives offered for those who contribute the film. Among the others are t-shirts, Blu-rays, a limited edition poster, a Skype call, a private screening and more. As is usually the case with Kickstarter, pledge incentives vary based on how much a backer contributes. A backer who contributes $10,000 to Tears of God will earn themselves a producer credit, among other perks.
With nine days to go, we're hopeful that they're successful in getting Tears of God funded. If you'd like to contribute or take a look at the pledge incentives, check out their Kickstarter page.
Assistant Managing Editor
Kelly joined CinemaBlend as a freelance TV news writer in 2006 and went on to serve as the site's TV Editor before moving over to other roles on the site. At present, she's an Assistant Managing Editor who spends much of her time brainstorming and editing feature content on the site.
Your Daily Blend of Entertainment News
Thank you for signing up to CinemaBlend. You will receive a verification email shortly.
There was a problem. Please refresh the page and try again.