New Teaser Posters For REC Prequel And Sequel Genesis And Apocalypse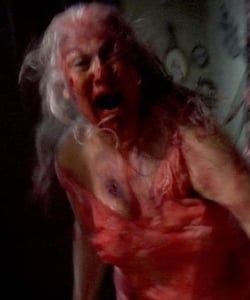 Attention Horror Fans! Delightful news today comes from those sickos over at Bloody Disgusting: REC: Genesis and REC: Apocalypse, prequel and sequel respectively, are underway to bookend the story already laid out in REC and REC 2. Those who have seen the films should be overjoyed that these films made enough money to allow the directors, Paco Plaza and Jaume Balaguero, continue their story of the zombie infestation of Spain.
The two film's are being shot simultaneously with each director taking a film rather than them both working as a pair. It'll be interesting to see what each director brings to the table individually since the original film's are so stylistic. This may give us some insight about who has more flare with a camera and who may be better with a pen.
Two new posters have been released at Bloody Disgusting simply continuing the "record" symbol style the other film's and kicking it up a notch as expected. The film's are scheduled for a Fall 2011 release for Genesis with Apocalypse following the next fall of 2012. Until then expect a ton of hype, starting right here with these posters.
Your Daily Blend of Entertainment News