Teenage Mutant Ninja Turtles 2 Might Be Headed To Dimension X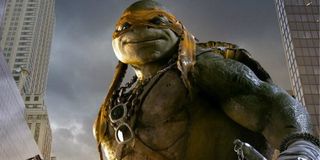 Teenage Mutant Ninja Turtles 2 is a thing, whether you like it or not. June 3rd, 2016 is the release date for the follow-up, and Turtles fans are highly anticipating the sequel to cheer on the continuing adventures of the heroes in a half-shell. But where would the next movie take them? Reportedly, producers are interested in a very familiar location.
ScreenRant spoke to Teenage Mutant Ninja Turtles producers Andrew Form and Brad Fuller, as well as director Jonathan Liebesman, as to if they would take the Turtles to Dimension X.
For the record, Jonathan Liebesman hasn't been confirmed to return to the director's chair for Teenage Mutant Ninja Turtles 2. He's something of an in-house selection from Michael Bay's Platinum Dunes, having helmed Texas Chainsaw Massacre: The Beginning for the studio eight years ago. If he doesn't come back, he'll at least be very intimately involved in the decision making, so if he's game for Dimension X, it just might very well happen.
In the comics, Dimension X is an alternate world where, allegedly, the mutagen ooze that transforms the Turtles has its origins. It's also where the villain Krang emerges, having failed to conquer the world: he's banished to Earth in the form of a giant brain as punishment. Some call it a dimension, others call it a galaxy. Tomato, to-mah-toe.
In the new movie, they directly reference the mutagen ooze as coming from "aliens," which is probably the most science fiction-y moment in the film. Teenage Mutant Ninja Turtles stays pretty grounded overall, with villains who prefer old-fashioned combat over elaborate weapons – William Fichtner's Eric Sacks handles a gun at one point, and it's the most advanced weaponry the movie uses. It would be a pretty big leap from the world of the first film, with it's snowy mountains, Times Square battle and otherwise terrestrial struggle between good and evil.
But the fans are outspoken, and after a couple of decades where the live-action Turtles' world has been decidedly more "realistic" than the animated series' and comics, the world of CGI suggests we could get a visit from Krang and a trip to Dimension X. Just mentioning Dimension X (say, as the actual source of the ooze) would be a game-changer in the universe, widening the possibility that we'd get scads of new mutants in the sequel, opening the world up to new possibilities. Teenage Mutant Ninja Turtles was an origin story, but it sounds very likely that the Turtles are going to immediately be thrown into the fire, battling against some of the mythology's greatest foes.
Your Daily Blend of Entertainment News
Thank you for signing up to CinemaBlend. You will receive a verification email shortly.
There was a problem. Please refresh the page and try again.