Teenage Mutant Ninja Turtles Dominate Friday Box, Will Easily Win The Weekend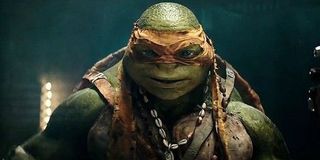 Teenage Mutant Ninja Turtles might have bombed out with critics, but it should easily win the weekend if the numbers from Thursday and Friday hold strong. So far, audiences have shelled out (get it? GET IT?) an estimated $25.6 million in Friday evening ticket sales, according to BoxOfficeMojo, putting the Turtles on track for an opening somewhere in the $60-$65 million range.
Though many didn't believe this was possible heading into the weekend, Teenage Mutant Ninja Turtles easily will trump Marvel's Guardians of the Galaxy, which banked $12.4 million on Friday and is on pace for a $42 million weekend. That's a hefty decline from its opening weekend, where Guardians opened to $94M. If the numbers hold, Guardians will sit around $175M, and prognosticators who thought James Gunn's movie would cruise to $300 million domestically will have to recalculate.
As for the Turtles, Paramount has to view this as a win. Director Jonathan Liebesman brought back the once-popular kiddie brand of entertainment, and was destroyed by critics for delivering an empty, lackluster big-screen adventure. But TMNT took a massive cue from the films of producer Michael Bay, ratcheting up the sex appeal, dialing down the logic, and somehow appealing to the masses who don't seem overly concerned with plot, performances, or the usual things critics look for in a movie.
It's entirely possible that the Turtles number is frontloaded, and that the fans who desperately wanted to see this new adventure checked it out Friday night. I think the opposite is probable. I can see Teenage Mutant Ninja Turtles doing a better number on Saturday than expected. Nickelodeon is a driving force behind this new Turtles film, and I'm sure advertising on that channel got families interested in the new adventure… and they often wait until Saturday or Sunday.
So Turtles, despite the critical drubbing, is off to a hot start. And with an absence of kid-friendly movies on the horizon, the Turtles could hold on to a chunk of the box office for weeks to come, at least until schools across the country start opening back up. The chances of Paramount getting a Teenage Mutant Ninja Turtles sequel off the ground are far more likely today than they were last week, when expectations on the new movie were lower than usual. If it happens, co-star Megan Fox has ideas as to whom could make it in. Did you see TMNT this weekend? Do you want to see more? Weigh in with your comments below!
Movie junkie. Infatuated with comic-book films. ReelBlend cohost. Resident dad. Extroverted introvert. Wants to see the Snyder Cut. Managing Director at CinemaBlend.
Your Daily Blend of Entertainment News
Thank you for signing up to CinemaBlend. You will receive a verification email shortly.
There was a problem. Please refresh the page and try again.