Terry Crews Really, Really Wants To Play This Superhero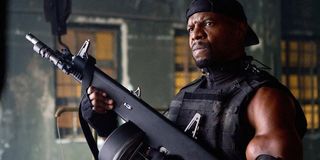 Terry Crews is one of the more comical actors on television at the moment, really coming into his own as funnyman Sergeant Terry Jeffords alongside Andy Samberg, Stephanie Beatriz and Joe Lo Truglio in Brooklyn Nine-Nine. The actor may be well-known for playing the muscle-headed joker, with his roles in films like Bridesmaids and television shows like Arrested Development, but he's clearly unwilling to accept being typecast as "that guy" as proven by his latest comments that he would love to play a superhero -- specifically, Silver Surfer.
It was in a recent Reddit AMA where Crews answered fans' questions about his current projects including the above-mentioned Fox comedy and his gig as host of shows like Who Wants to Be a Millionaire and World's Funniest Fails, that the former NFL athlete-turned actor talked about playing the Marvel superhero. He not only talked about filling the role of the iconic Fantastic Four character, he also professed his love. Here's what he had to say:
This isn't the first time Terry Crews has vocalized an obsession with a Marvel superhero. It was only about six months ago that he was publicly lobbying for the role of Luke Cage aka Power Man. The role was eventually given to Mike Colter (The Good Wife) after Crew's pleas to embody the superhero (whom he calls the equivalent to Superman) fell on deaf ears. Lucky for Colter (because NONE of us want someone like Crews angry at us) he doesn't seem bitter as he even took to social media to congratulate his fellow actor. While Colter will be a fine representation of Power Man, I can't help but think The Expendables star would be a far more entertaining fit for the character. Maybe his not getting the role was an act of fate, allowing him the freedom to now take the role of The Silver Surfer.
Remember the Surfer in the second Fantastic Four movie?
Whether Terry Crews will play the character in a stand-alone film or in future Fantastic Four installments is uncertain, but he will definitely be appearing in the upcoming film The Ridiculous 6, alongside Adam Sandler, Lavell Crawford and Taylor Lautner. He can also be seen in the action comedy Aztec Warrior, about a washed up wrestler coming out of retirement, later this year. If you need some Crews to help tide you over until his next big screen appearance, check out this hilarious Old Spice commercial in which he plays every single, ridiculous character.
Your Daily Blend of Entertainment News
Thank you for signing up to CinemaBlend. You will receive a verification email shortly.
There was a problem. Please refresh the page and try again.