Think Like A Man And The Lucky One Both Unseat The Hunger Games At Friday Box Office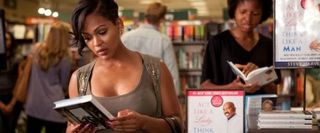 Though The Hunger Games will finally be giving up its reign over the box office, it's still a strong weekend at the North American box office, with not one but two movies finally capable of unseating Katniss and company. The earliest numbers from Friday suggest that Think Like A Man, the ensemble romantic comedy based on Steve Harvey's advice book, is outperforming even its highest expectations, making $12 million on Friday on its way to a $30 million weekend. Parent studio Sony had been predicting $17 million, which means their effort to make a generic romantic comedy that appealed to both black and white audiences has paid off nicely.
But don't count out Zac Efron either-- his movie The Lucky One also overperformed, with $9 million on Friday and an estimated $25 million from the weekend. According to Deadline the CinemaScores for each film show Think Like A Man pulling ahead, with an "A" to The Lucky One's "B+" but both were aiming for very specific audiences, and they seem to have hit them perfectly.
Even the smallest new release of the week, Disneynature's Chimpanzee, is doing well for itself, making $3.4 million on Friday and on track for a $10.5 million weekend-- not bad for a movie in which all of the main characters are chimps.
Maybe the most impressive thing about Think Like A Man's success? It's playing in just 2,015 theaters, compared to The Lucky One's 3,155 and The Hunger Games's 3,752. That's really remarkable success, especially for a movie with not a lot of name brand stars and a genre that typically only appeals to half of the population. We'll have full box office numbers for you on Sunday, but in the meantime, let us know in the comments what you're seeing this weekend!
Staff Writer at CinemaBlend
Your Daily Blend of Entertainment News
Thank you for signing up to CinemaBlend. You will receive a verification email shortly.
There was a problem. Please refresh the page and try again.