Thomas Ian Nicholas Signs On To Complete The American Pie Reunion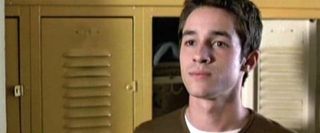 I don't know which original American Pie cast member I necessarily would have predicted as a holdout to a reunion-- despite all being pegged as hot young things when the movie first came out in 1999, none of them have exactly had amazing careers, with the lone exception being probably How I Met Your Mother Alyson Hannigan (and she was already on Buffy the Vampire Slayer at the time anyway). But Hannigan actually signed on board weeks ago, meaning the very last person to officially rejoin is Thomas Ian Nicholas, who certain kids of the 90s may know better as Rookie of the Year's Henry Rowengartner.
According to THR he's finally closed his deal to appear in the film, and not a moment too soon since it starts shooting in April. Nicholas played Kevin in the three films, the guy dating Tara Reid who winds up losing his virginity like everybody else by the end of the first film, and generally kind of fits into the corners of a sex comedy given that he's the guy in a committed relationship. Still, he's a key part of things, and it would have been weird for the entire reunion to take place without him. It still may be a terrible idea to try to recreate a series that was really only good the first time around, but doing it without the entire original cast would be nearly impossible.
Staff Writer at CinemaBlend
Your Daily Blend of Entertainment News
Thank you for signing up to CinemaBlend. You will receive a verification email shortly.
There was a problem. Please refresh the page and try again.