Thor: The Dark World Somehow Includes A Chris O'Dowd Cameo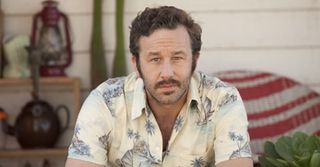 Two years ago only the Americans with a serious affinity for British comedy would have been able to identify Chris O'Dowd, the Irish actor who starred on the beloved series The IT Crowd (opens in new tab) and, OK fine, had a bit part in the Jack Black Gulliver's Travels, for what that's worth. But in the spring of 2011 O'Dowd was part of the tidal wave that was Bridesmaids, playing the world's most likable cop and setting up a solid career of working with some of the coolest people out there-- including, as it turns out, Thor.
Talking to O'Dowd on the occasion of his delightful new movies The Sapphires, Indiewire asked O'Dowd if he's aiming to branch out into more dramas and action movies, and he dropped some surprising information about a cameo in Thor: The Dark World that seemed to come about entirely on a whim:
Somehow they didn't press him for details, which leaves us to wonder just how O'Dowd will fit into a story that seems to be heavily focused on outer-space drama. The original Thor, of course, featured plenty of humor, and the return of Kat Dennings as Natalie Portman's BFF Darcy-- in an expanded role, no less promises there will be at least a few good one-liners. But most of what we've heard about the film so far has been about bad guys and more bad guys, plus a promised Game of Thrones vibe. It's fun to imagine O'Dowd donning a big shiny helmet and playing one of the dark elves, but I imagine the smart money is on a brief, funny cameo-- with Dennings taking a larger and more important role, maybe the bulk of the good one-liners will go to him after all.
If you, like everyone else on earth ought to be, are completely enamored with Chris O'Dowd, you absolutely should catch him in The Sapphires, which opened in Australia last year and is coming to American theaters this week. Check out the trailer-- and O'Dowd's amazing mustache, of course-- below.
Your Daily Blend of Entertainment News
Staff Writer at CinemaBlend