Chris Hemsworth Promises Relationship Troubles And A Game Of Thrones Vibe For Thor 2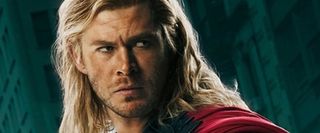 The Marvel Cinematic Universe has been so successful that it's hard to imagine any of the movies being risky, but as we enter what the studio is calling "Phase Two," there will be some changes afoot. Three of the four upcoming sequels-- Iron Man 3, Captain America: The Winter Soldier and Thor: The Dark World-- will be directed by different people than handled the originals, and though the Marvel Studios "look" is pretty consistent, these new directors might be bringing some intriguing changes with the potential to frustrate fans.
While we'll get a look at Shane Black's take on Iron Man 3 first, Thor: The Dark World won't be far behind, with Game of Thrones veteran Alan Taylor stepping up to a huge feature for the first time. You might expect that, with its accents and mythical creatures and characters wearing armor, the world of Thor would be a natural step for a Game of Thrones veteran… and now Chris Hemsworth himself is confirming that Taylor is bringing a taste of his last job to Asgard. Here's what he told MTV:
He also said that The Dark World will acknowledge one of the big unanswered questions from The Avengers-- how the hell did he come back to Earth and not visit his lost love Jane? Hemsworth tells MTV, " For Thor and Jane, there are some unanswered questions now, since obviously he didn't stop in and catch up with her in "Avengers." Thor might have some explaining to do in this one." Of course, the fact that Jane wasn't in The Avengers probably has more to do with Natalie Portman's contract than any true plot concerns, but for the sake of continuity, we can pretend otherwise.
With relationship troubles, the return of his fraught relationship with Loki and the promise of some fearsome dark elves, Thor's going to have a lot on his plate when Thor: The Dark World arrives November 8, 2013. Will you be on board to see it?
Staff Writer at CinemaBlend
Your Daily Blend of Entertainment News
Thank you for signing up to CinemaBlend. You will receive a verification email shortly.
There was a problem. Please refresh the page and try again.