After Thor: The Dark World, Where Will Marvel Go Next?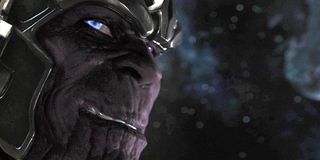 With Thor: The Dark World opening in theaters this past weekend we are now about half way through Phase Two of the Marvel Cinematic Universe. The adventure will continue next year with the release of both Captain America: The Winter Soldier as well as Guardians of the Galaxy, and then in 2015 we will be treated to the long-awaited Avengers: Age of Ultron. But Marvel Studios' plans hardly stop there. Studio president Kevin Feige has gone on record saying that the company has planned their movies all the way through the year 2021 – but what exactly does the future hold? It's perhaps too early to predict what we will be coming out eight years from now, but there is enough evidence out there to suggest what Marvel has planned for their Phase Three, which kicks off after Age of Ultron.
Gathering evidence from the movies we have seen, reading over reports and interviews, and just using plain ol' common sense, I have peered into the comic book movie crystal ball to predict the future of the Marvel Cinematic Universe. What heroes will return? What new heroes will appear? Read on to find out!
MAJOR SPOILER WARNING: This article goes into heavy detail about both the end and the post-credits sequences in Thor: The Dark World, so if you haven't seen the film don't click the next button...
Ant-Man – July 31, 2015
This one isn't so much a prediction as it is a stone cold fact. After years and years of development, Marvel is finally pulling the trigger on Edgar Wright's Ant-Man - but at this point that's really all we know. Wright and co-writer Joe Cornish have been tweaking and updating the script to make it fit with everything that's been going on in the Marvel Cinematic Universe, but the truth is that we don't even know which version of Ant-Man the film is going to feature. Will it be the original Hank Pym wearing the suit, or will the story center more on his successor, Scott Lang? Or is it possible that they both will be in the movie? With the studio now aiming for a July 31, 2015 release date (much sooner than the original November 6, 2015 deadline) production is expected to start up some time in the first half of next year, so stay tuned over the next couple of months as new information is guaranteed to come pouring in.
Thor 3 – May 6, 2016
A second sequel in the Thor franchise hasn't been announced just yet, but anyone who has seen Thor: The Dark World can understand why it now looks as though it's a foregone conclusion. The God of Thunder is surely going to enjoy his time on Earth with the lovely Jane Foster and will be around when it comes time for the Avengers to reassemble and take down the robotic menace that is Ultron, but at some point he is going to realize that his psychotic, mischievous brother Loki is sitting on the throne of Asgard instead of his father, Odin. This news will presumably bring Thor back to his home realm so that he can deal with his troubled sibling… but where it goes from there is up to the creative minds at the comic book movie studio. Let's also not forget that the Norse superhero has proven to be one of Marvel's most bankable characters, so letting him have his own full trilogy just makes sense from a fiscal standpoint.
Doctor Strange – July 18, 2016
Like Ant-Man, Doctor Strange has long been rumored to be a part of Marvel's Phase Three plans, but unlike Wright's film it has yet to be officially announced and placed on the release date calendar. Still, I'm predicting that the movie is going to become a reality sooner rather than later. Back in January of this year Kevin Feige went on record in an interview saying that the mystical superhero is "definitely one" of the characters they have been developing as part of Phase Three, and the studio has been reportedly working with a script by Thomas Donnelly and Joshua Oppenheimer (2011's Conan The Barbarian) for a long time now. Whether it's early or late in the next stage of the Marvel Cinematic Universe, I don't think it will be much longer until we get to see a big screen origin story for Dr. Stephen Vincent Strange.
Guardians of the Galaxy 2 – May 5, 2017
Given that Thor 3 appears to be an inevitability, one might predict that Marvel would possibly want to mirror Phase Two with a third Captain America movie, but my gut is leaning in another direction. Rather than finishing out their contracts with Robert Downey Jr., Chris Hemsworth and Chris Evans all in the same time period, I'm going to make a radical guess and say that the super soldier's trilogy will extend into Phase Four and that Marvel will give the Guardians of the Galaxy a second big screen opportunity. Obviously this all depends on the success of James Gunn's film when it's released next August, as a poor box office performance would kill this idea immediately, but if the movie is as fun as it looks then I wouldn't be surprised to see the intergalactic team get a Phase Three sequel.
Captain Marvel – July 21, 2017
Marvel Studios has done a good job putting some kick-ass female characters on the big screen, from Pepper Potts to Black Widow to Peggy Carter, and Scarlet Witch has been confirmed as a part of Joss Whedon's The Avengers: Age of Ultron, but the big step they have yet to take is adapting one of their female superheroes for a lead role in a solo film. I predict that drought will end when Captain Marvel is given her own movie as part of Phase Three. A couple months ago producer Louis D'Esposito said in an interview that the studio has been hearing a drumbeat for a female superhero that's "banging louder and louder," and even name-dropped Major Carol Danvers' alter-ego. Add the fact that Guardians of the Galaxy will be introducing the alien race known as the Kree – the same race that winds up giving Danvers her power – and you begin to connect some dots that suggest a Captain Marvel movie is just on the horizon.
The Avengers: The Infinity Gauntlet – May 4, 2018
Fans have been predicting this ever since Thanos reared his big purple head at the very end of the first Avengers movie (not to mention the opportunity to freeze frame Thor), but with the capstone of Phase Two featuring Earth's mightiest heroes facing off against Ultron, Avengers 3 now appears to be the perfect time to play out the legendary Infinity Gauntlet storyline. Not only does Marvel need a way to pay off the aforementioned Mad Titan tease (beyond his presence in Guardians of the Galaxy), the post-credits sequence of Thor: The Dark World introduces the Infinity Stones to the Marvel Cinematic Universe, which are, of course, vital to the Infinity Gauntlet plot. It's possible that the studio is just using a bit of misdirection and actually has something completely different in store, but for now this seems like the logical idea.
NJ native who calls LA home; lives in a Dreamatorium. A decade-plus CinemaBlend veteran; endlessly enthusiastic about the career he's dreamt of since seventh grade.
Your Daily Blend of Entertainment News
Thank you for signing up to CinemaBlend. You will receive a verification email shortly.
There was a problem. Please refresh the page and try again.