The Three Stooges Are Getting Another Movie, Get The Details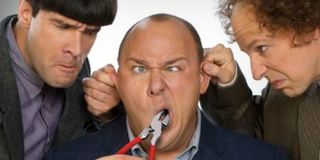 The Three Stooges didn't make too much of a splash when it was released back in 2012. Not only did it only gross $50.4 million from its $30 million budget, but it was met with lukewarm reviews, as well. However, C3 Entertainment, Grand Peaks Entertainment, and The Exchange clearly still see some kind of potential in the comedy because the studios have banded together to order a sequel, which will bring its three leading actors, Sean Hayes, Chris Diamantopoulos and Will Sasso, back too.
According to Deadline, Cameron Fay has been hired to write the follow-up, while it's still not known if the Farrelly Brothers will return for joint director duties. However, as Bobby and Peter Farrelly wrote the original alongside Mike Cerrone before they then went on to direct, it's highly unlikely that they will decide to step into the breach again, having not been given the responsibility of scribing it.
And while it's a tad surprising that the studios have combined to release another Three Stooges effort after 20th Century Fox decided not to proceed, C3, Grand Peak, and The Exchange have devised a clever little scheme to try and make sure that The Three Stooges 2 is more profitable this time round. They are going to cast a big action star to join the ensemble, and he or she will partake in Larry, Curly, and Moe's idiotic antics. They also hope that his appeal will help to increase the film's poor showing overseas, where it only contributed 19% of the film's box office.
Deadline didn't given any indication about who that might be, however, we're guessing he'll try to be in the mold of a Chris Evans or a Chris Hemsworth. Obviously, the trifecta of studios would be absolutely delighted, probably stunned, if they managed to get either of the above pair. In all likelihood, they might want to scale back expectations and hope for Taylor Lautner, Douglas Booth or Alex Pettyfer.
It'll probably still take a lot of convincing for whoever is picked to actually sign on the dotted line for the film though, especially since the first film failed to connect with an audience. We'll get our first indication if screenwriter Fay is up to the task of reviving the Stooges when his debut feature script, Brother In Laws, starring Gillian Jacobs, Taran Killam and Bill Pullman, is released later this year.
In defense of 2012's The Three Stooges, it was actually a fun, fast, lighthearted romp that provided a few genuine laughs and also featured a glorious cameo from Larry David as a nun. It was far from the abject failure that many assumed it would be, but certainly could have profited from some more laughs. Sean Hayes, Chris Diamantopoulos and Will Sasso's camaraderie was the film's highlight too, and if the trio can recapture that spark then the sequel should prove to at least be watchable. Which is me settling the bar really, really, embarrassingly low for the flick.
Your Daily Blend of Entertainment News