Tilda Swinton's Physical Transformation In Trainwreck May Be One Of The Best Of The Year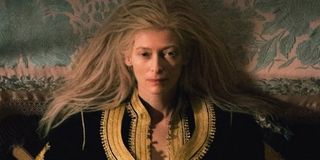 If you were one of the people who saw the Judd Apatow-directed, Amy Schumer-scripted comedy Trainwreck this past weekend, you probably noticed Amy's boss, top-dog magazine editor Dianna. Now, around these parts, some of us thought she looked familiar and ultimately recognized her as Tilda Swinton, and some of us made it through the whole movie without coming to that realization. Whether you knew immediately or not, her transformation one of the best of the year.
In a career full of transformative performances, this may be one of Swinton's most drastic physical reformations. EW has a new piece where the explore how the pale, waifish actress who favors close-cropped hairdos became the bronzed, vicious, larger-than-life head of a vulgar men's magazine that runs articles on such hard hitting topics as how various foodstuffs impact the taste of semen. Talking about Dianna, and the process, makeup artist Kyra Panchenko said:
To achieve this goal, they buried Swinton under "layers and layers" of makeup and other beauty products. This included an hour a day spent covering the 54-year-old actress with bronzer and self-tanning cream to perfect a certain leathery, too-much-time-in-a-tanning-bed exterior look. As Panchenko says, they "turned her the color of a coconut shell."
From there they focused on swapping out Swinton's normally subtle eye makeup for a deep, dark, smoky eye look, slathering on eyeliner and eye shadow until they resembled bottomless pits. And to top it all off? Covering her hair, which she usually wears short and almost white despite being a natural redhead, with shoulder-length wig the color of which Panchenko describes as "filthy blonde."
Director Judd Apatow and writer/star Amy Schumer gave Swinton the control to pick and choose and create the look of her character for herself. She patterned herself after the aesthetic of famed Vogue Paris editor Carine Roitfeld, and you can certainly see the similarities between the two.
Swinton has made a career out of being a chameleon. In just the last few years she played the elderly Madame D. in Wes Anderson's The Grand Budapest Hotel; an ageless, world-weary vampire in Jim Jarmusch's Only Lovers Left Alive; and the fascistic warden of a post-apocalyptic train in Bong Joon-ho's Snowpiercer. In each of these roles, among countless others in movies big and small, part of her transformation is to physically embody these characters, and Trainwreck is one of her most complete renovations yet. (We're excited to see what she does as the gender-swapped Ancient One in Doctor Strange.) It's a remarkable disguise. I had an oh shit moment when I realized it was Tilda Swinton (her nose gave it away), but I've talked to people who watched the whole movie not realizing that was Tilda Swinton until they read the EW story.
Trainwreck is in theaters now.
Your Daily Blend of Entertainment News