That Time Steven Spielberg Turned Down Harry Potter For Another Movie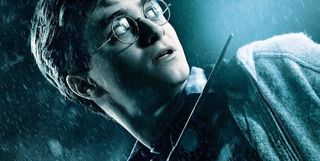 Imagine if Steven Spielberg had directed Harry Potter and the Sorcerer's Stone? It could have happened, as Spielberg was offered the job, but he turned it down, deciding to take his career in "another direction." That direction, as it happened, was Minority Report and A.I. Artificial Intelligence.
As you may or may not remember, it was around this time, fifteen years ago, that Spielberg's name was linked to the anticipated Philosophers/Sorcerer's Stone adaptation. This was back when J.K. Rowling's now-beloved magical series was only just starting to generate real buzz stateside. Take a look at this recently resurfaced news clipping, which announces that Steven Spielberg would not be directing Harry Potter and the Sorcerer's Stone...
We have the Academy of Motion Pictures Arts and Sciences and Oscars.org to thank for showcasing this 15-year-old clipping. It's included in the new Harry Potter Highlights page, which was recently added to the site's Collections feature. The page features photos and clippings related to the making of the Harry Potter movies, one of which is the above "Morning Report" from the L.A. Times, which notes that Spielberg opted out of adapting Harry Potter for the screen, in favor of the sci-fi thriller Minority Report, which starred Tom Cruise and grossed more than $35 million domestically in its opening weekend (beating Disney's Lilo & Stitch by a narrow margin).
The LA Times clipping is dated February 2000. For a bit of perspective on the buzz that was circulating at that time, you can look at an article L.A. Times posted just a month prior, which noted that "the buzz is that Spielberg's next project will be a Harry Potter film for Warner Bros." The January article goes on to note that Spielberg's office issued a statement that denied any decision was made yet. And sure enough, a month later, it was announced that Spielberg was out. Then In March, news broke that Chris Columbus was confirmed to helm what would go on to be the first of eight Harry Potter movies. The rest is Harry Potter history.
So, what if Steven Spielberg had directed Harry Potter and the Sorcerer's Stone? It's possible we would've gotten a series of animated movies. Back in 2010, right around the time that Harry Potter and the Deathly Hallows Part 1 was set to arrive in theaters, LA Times ran an article recounting the history of the franchise, which included a comment from Alan Horn that revealed Spielberg's plans for the adaptation. That included combining some of the books and making it animated.
In retrospect, it's hard to argue with Horn's preference for live-action and separate films. Heck, I doubt fans of the books would've argued with him back then either, as I can't imagine book fans would've appreciated the stories being condensed even more than they ended up having to be from page to screen.
Did it all work out for the best? As an openly geeky fan of the books, I'm going to say yes, but it's a gray-area yes. We got the live action films, and they gave each book its own movie. Deathly Hallows actually ended up getting split into two movies, which is pretty much the opposite of combining books. And yet, we can still nitpick over the aspects of the story that were condensed, altered or altogether written out -- Respectful nod in the general direction of Peeves, wherever he's hovering. -- in the feature adaptations.
And as a Minority Report fan, I don't entirely regret Spielberg's decision not to direct Harry Potter, even if WB had been able to convince him that live action and separate movies would be the right approach. Still, who knows what Spielberg would have made from the Harry Potter books, had he chosen to pursue the adaptation(s).
Steven Spielberg also went on to make A.I. Artificial Intelligence. He did not, however, direct the adaptation of Arthur Golden's Memoirs of a Geisha, which was also eying back in 2000. (Rob Marshall ended up directing that one.)
It's interesting to look back at the history of bringing Harry Potter to the screen, particularly now as Fantastic Beasts and Where to Find Them is in the works, with Harry Potter and the Order of the Phoenix, Half-Blood Prince and Deathly Hallows director David Yates attached to helm. Will the spinoff, which is being penned by J.K. Rowling herself, go on to be as huge as the Harry Potter franchise? Will we someday look back and wonder what might have been had the rumor about Alfonso Cuaron possibly directing been true? Perhaps, if the film(s) leave as big an imprint on pop culture as Harry Potter has. Fantastic Beasts is expected to begin filming this summer.
In the meantime, you can look back at some of the Harry Potter franchise highlights at Oscar.org. And if you're a fan of "can you imagine?" scenarios, be sure to check out the news clipping about Tim Roth, who was originally on board to play Professor Snape, but decided to star in Tim Burton's Planet of the Apes instead.
Assistant Managing Editor
Kelly joined CinemaBlend as a freelance TV news writer in 2006 and went on to serve as the site's TV Editor before moving over to other roles on the site. At present, she's an Assistant Managing Editor who spends much of her time brainstorming and editing feature content on the site.
Your Daily Blend of Entertainment News
Thank you for signing up to CinemaBlend. You will receive a verification email shortly.
There was a problem. Please refresh the page and try again.