Timur Bekmambetov Working On Russian/Chinese Anthology Movie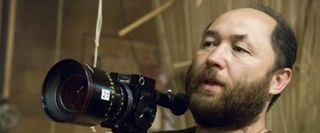 Russia and China are collaborating on a new project, but you won't be hearing the talking heads on CNN deconstructing. Instead, Deadline says Russian filmmaker Timur Bekmambetov (Wanted) is collaborating with Chinese filmmaker Eva Jin (Sophie's Revenge) for a joint remake of the Russian film Yolki (Six Degrees of Celebration). Bekmambetov was one of several Russian directors to contribute to the original film, which is comprised of different linked vignettes.
The original version of Yolki told the intersecting stories of eight different Russians whose lives intertwine over the course of New Year's Eve. So, yeah, it was basically a Russian version of New Year's Eve (pictured above). Only their version didn't include Ashton Kutcher, so that's a small comfort. In the remake, the holiday will be shifted to center around Chinese New Year, but the basic structure and premise will remain the same. The title refers, of course, to the concept of "six degrees of separation" -- that everyone on the planet is only six steps away from any other person. The various different stories in the remake will all be connected somehow to that of an orphan girl who wants to deliver a message to the President. As with the original, each of the segments will be directed by a different filmmaker, with Bekmambetov and Eva Jin each tackling one.
There's nothing inherently wrong with the vignette/anthology style of movie-making, it's just been soured here in the states by the one-two punch of the execrable Valentine's Day and New Year's Eve. Hopefully the Russians and Chinese will have better luck with the genre. They almost certainly couldn't do worse.
Your Daily Blend of Entertainment News
Thank you for signing up to CinemaBlend. You will receive a verification email shortly.
There was a problem. Please refresh the page and try again.