Tobey Maguire Takes Spider-Man Maternity Leave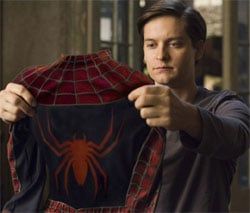 Tobey Maguire's return to Spider-Man is closer than ever to being finalized. The Timse Online says he's worked a deal that will earn him a stunning $50 million paycheck for shooting Spider-Man 4 & 5 back to back.
What's really interesting about his contract, according to their sources, is that in addition to earning a ridiculous amount of money, he's being granted "family time" as part of the deal. What the heck is family time? It's a lot like part-time maternity leave, apparently. Shooting two Spidey movies back to back is expected to take anywhere from 6 months to a year, and Maguire has a 22 month old daughter he'd rather be spending time with. So his deal will stipulate that he's allowed to take early mornings and evenings off, to hang out with his kid.
In short, Tobey Maguire is being paid $50 million to put in half-days at work. Who cares, as long as he's back right? Except you've got wonder how this might affect the production. Will it now take them longer to make it? Will they use more annoying Spider-Man cgi, to cover for the times when they wanted Maguire on set but couldn't get him because he was busy reading "Run Spot Run"? It'll be interesting to see what sort of long term impact this has on Hollywood. Tobey isn't the only mega-star with a family. Assuming this isn't yet another case of a British newspaper faking news, his on-set maternity leave may be the first of many.
Your Daily Blend of Entertainment News
Your Daily Blend of Entertainment News
Thank you for signing up to CinemaBlend. You will receive a verification email shortly.
There was a problem. Please refresh the page and try again.