Toby Jones Will Play Announcer Claudius Templesmith In The Hunger Games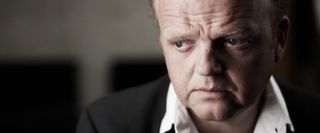 Lenny Kravitz's casting as Cinna is probably the last major announcement we'll hear about The Hunger Games cast, unless they decide to bring in President Snow for this film rather than saving him for the second and third films, in which the character is much more relevant. But there's still time for another big name to sign on, albeit in a fairly small role; Deadline reports that Toby Jones has signed on to play "the host/narrator of the games alongside Stanley Tucci"; as best I can figure that means he'll be Claudius Templesmith, the announcer of the Games whose voice booms out in the arena every time an announcement needs to be made.
Templesmith is a fairly small role in the book, but bringing on an actor as notable as Jones-- you may know him from Infamous, Frost/Nixon, or as the voice of Dobby in the Harry Potter series-- is about par for the course in the Hunger Games movie. The aforementioned Tucci is playing another small but pivotal role as pre-Games interviewer Caesar Flickerman, and Wes Bentley has been brought on to play Seneca Crane, the gamesmaker who has only a handful of lines in the entire film. It's possible they're expanding these adult roles for the film, but I think it's more likely that they're pulling a Harry Potter by cramming the supporting roles with big names, simply because they can.
The Hunger Games goes into production this month in North Carolina, and is set for release March 23, 2012.
Staff Writer at CinemaBlend
Your Daily Blend of Entertainment News
Thank you for signing up to CinemaBlend. You will receive a verification email shortly.
There was a problem. Please refresh the page and try again.