Todd Phillips May Replace Martin Scorsese On The Gambler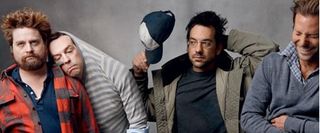 Todd Phillips' name brings to mind wacky and raunchy comedies like Old School, The Hangover and Due Date. He's a triple threat as a writer, producer and director and has done quite well spinning wild tales of out of control men. The same could be of Martin Scorsese, who has shaped stories of gangsters driven by blind ambition (Goodfellas, The Departed), cops driven mad from grief (Shutter Island), and criminals driven by bloodthirsty vengeance (Taxi Driver, Cape Fear). Still, Phillips favors comedy while Scorsese has mastered drama. So despite this thematic similarity, few would ever guess this pair would be offered the same film.
Well, THR stuns us by declaring just that. Phillips is reportedly in talks to helm Paramount's remake of The Gambler, a 1974 crime drama that starred James Caan and centered on a literature professor brought low by his addiction to gambling. Last summer, Scorsese was attached to direct the remake, and Oscar-winning The Departed's scribe William Monahan was lined up to pen its screenplay. According to this update, Monahan's script is still in play, which could provide a solid base for Phillips' first dramatic feature. No mention is made as to why Scorsese is out of the picture, but with him being in the midst of The Wolf of Wall Street, and reportedly prepping Silence and a Frank Sinatra biopic, it seems The Gambler couldn't wait on the ever-busy auteur.
While this might seem like a major shift for Phillips, it's worth remembering his comedies have often played out from a strong emotional core. So this shift in tone may not be so drastic a move. It's hard to imagine what Phillips' Gambler would look like, but really that wild card element is part of its allure. Besides, after three Hangover movies, maybe the director is eager for a change in pace and hungry to try something new and risky. Should he sign on, production of The Gambler could begin hot on the heels of The Hangover Part III, which shoots next month.
Staff writer at CinemaBlend.
Your Daily Blend of Entertainment News
Thank you for signing up to CinemaBlend. You will receive a verification email shortly.
There was a problem. Please refresh the page and try again.