Tom Felton Leaves Hogwarts To Play A Golfer In From The Rough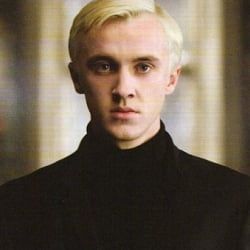 Whether it's because we're attached to them after years of watching them grow up or because we don't really want to believe the years at Hogwarts are over, it's been weird watching stars of the Harry Potter franchise move on to other projects-- and with a few exceptions, they haven't had much success. With the first of the Deathly Hallows installments on its way this fall, all of the Gryffindors are lining up what's next-- and now it's time for a Slytherin to get in on it too.
Tom Felton, who has played the villainous but misunderstood Draco Malfoy since he was 14 years old, is apparently in negotiations to join From the Rough, an indie drama about golf, of all things. According to THR Taraji P. Henson is already on board to star in the film based on the life of Catana Starks, who became the first female head coach of an NCAA Division 1 men's team when she joined as the golf coach at Tennessee State University in 1986. Ving Rhames and Henry Simmons have also signed on to star.
Don't worry-- Felton hasn't been cast unconvincingly as a Tennessee golf player, but as a "British golf hustler" recruited for the team. Simmons will be playing the director of the athletic department who clashes with Henson's character (renamed Cassandra Turner presumably because details have been changed from reality), while Rhames plays the campus maintenance man. Pierre Bagley is producing and directing the script by Michael A. Critelli, with production set to start in October in New Orleans.
Your Daily Blend of Entertainment News
Staff Writer at CinemaBlend