Tom Hanks Producing JFK Assassination Drama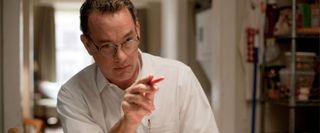 With his production company Playtone, Tom Hanks and his producing partner Gary Goetzman have helped mount a string of ambitious and rightly celebrated historical mini-series from Band of Brothers to John Adams and The Pacific. Each offered an insight into a tumultuous time in American history, unfolding the trials and tribulations of the U.S.'s second president and the struggles of the noble soldiers who fought in World War II. To date, Playtone's film slate has typically been more geared toward kid flicks, with offerings like The Ant Bully, City of Ember and Where the Wild Things Are. But the production company's latest deal has them primed to bring the kind of expansive and poignant storytelling displayed in their miniseries to a new feature about the assassination of President John F. Kennedy.
Variety reports Hanks and Goetzman will produce Parkland an indie drama that's title refers to the Parkland Memorial Hospital that took in and ultimately pronounced dead Kennedy, his assassin Lee Harvey Oswald, and Oswald's killer Jack Ruby. Reportedly, the film will feature an ensemble cast, and the events and aftermath of the tragedy in Dallas on November 22nd, 1963, will be explored through a variety of characters including a reporter, a young doctor, an FBI agent, members of Kennedy's staff and secret service detail, Jackie Kennedy, Oswald's older brother, and Abraham Zapruder who captured the horrendous and unforgettable home video of the President's assassination.
The film will mark the directorial debut of its screenwriter, Peter Landesman, who previously wrote a screenplay for Playtone about the life of FBI agent Mark "Deep Throat" Felt.
Staff writer at CinemaBlend.
Your Daily Blend of Entertainment News
Thank you for signing up to CinemaBlend. You will receive a verification email shortly.
There was a problem. Please refresh the page and try again.