Tom Hardy Plays Twin Badass Killers In First Legend Trailer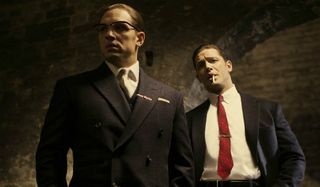 What's better than one Tom Hardy? Two Tom Hardys! We're not blowing smoke, although the Legend trailer shows the actor puffing a lot (like, a lot of cigarettes). After taking over for Mel Gibson in the new Mad Max: Fury Road, the suave Hardy will portray twin gangster brothers Reginald "Reggie" and Ronald "Ronnie" Kray in Legend, the first teaser for which has landed online. Watch it now!
"You're my brother," says Hardy. "We're gonna rule London." And they do. Despite the Italiano-inspired song of the Legend trailer, these real-life siblings ruled England's capital city throughout the 1950s and '60s. They were considered the top propreiters of organized crime in London's East End, and in 1969 they were each given life sentences for Jack "the Hat" McVitie, who died of multiple knife wounds. Ronnie was also charged and convicted with the death of George Cornell, who was called a "fat poof" and shot between the eyes. In 1995, after Ronnie died of a heart attack, Reggie gave an interview to The Independent that neither he nor his brother had any regrets for the murders they committed during their reign. "There are many people worse off than us," Reggie said. "A lot of people have no choice but we did."
Joining Hardy in this dual role are Emily Browning, Thor: The Dark World villain Christopher Eccleston, David Thewlis, Chazz Palminteri and Kingsman: The Secret Service actor Taron Egerton. Brian Helgeland, who won an Oscar for his work on the L.A. Confidential screenplay, is leading this pack of misfits in this stylized gangster film.
The first Legend trailer only shows us bits and pieces of the film, but it serves its purpose in establishing the tone. Hardy looks uniquely sharp dressed in his impeccable suits and flaunting that gangster cool as he puffs his cigarettes alongside himself. He's proven adept at playing off other actors' energy in films like Warrior, Bronson, The Drop and, yes, The Dark Knight Rises. But this will be the ultimate test. Jake Gyllenhaal pulled a similar feat with Enemy for his prisoners director Denis Villeneuve. In it he portrayed two doppelgangers, both viturally different men. They say the only person who can make you fail is yourself, though it's doubtful Hardy will do so in this regard. The footage is already tantalizing. Can Hardy just play every role in every movie from now on?
Legend will open in U.K. theaters on September 11, while Universal Pictures has acquired the distribution rights in the U.S. However, a domestic release date has yet to be announced.
Your Daily Blend of Entertainment News
Thank you for signing up to CinemaBlend. You will receive a verification email shortly.
There was a problem. Please refresh the page and try again.