Toy Story 3 Was Originally Set In Taiwan And Involved Transformers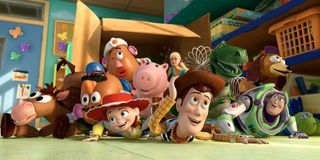 Pixar's Toy Story 3 is, in my humble opinion, the perfect cap to what now exists as a flawless trilogy. It brought closure to the Andy storyline, sending Woody and Buzz's beloved owner on to the next chapter of his life (in true Boyhood fashion) while also figuring out what to do with the toys. The sequel was funny, sweet, melancholic and uplifting… and it almost ended up being COMPLETELY different.
Back in 2004, Disney and Pixar were feuding over the rights to the characters in Pixar's stable. Unwilling to part with such valuable commodities as Buzz and Woody, Disney – at the time – created a sidebar company called Circle 7 Animation, then assigned a team of creative folks to come up with the concept for a third Toy Story film. Over the years, the plot for the scrapped sequel has made the rounds. We have known for some time that it would involve Buzz Lightyear (Tim Allen) malfunctioning and being recalled. But we now know, via elaborate concept art shared by the artist Jim Martin, what was due to happen in this alternate Toy Story 3.
From the looks of the below drawings, Woody and the crew would grow concerned after Buzz begins to malfunction. It's decided that the space toy should be shipped back to Taiwan, where he was created. But once Buzz is en route, the toys learn that there's a massive factory recall – and there's a good chance that their friend will be destroyed instead of fixed. The movie become a rescue mission, with Woody, Rex, Potato Head and Slinky all traveling to Taiwan to save Buzz. In a parallel mission, Buzz looks like he is interacting with fellow recalled toys, which include Cindy Scissors, Little D (a donkey toy), and multiple versions of the Transformers. Awesome!
If you scan through all of the images, you can see a lot of traces of elements that ended up in Lee Unkrich's Toy Story 3. Instead of recalled toys in a Taiwanese factory, the action in 3 shifted to a daycare center, where Lotso lorded over broken, rejected toys. And in the designs shared by Jim Martin, you'll see that they had a character named Apology Bear, who has a number of Lotso's physical characteristics.
Even more of the art found on Martin's official site spell out what might have happened in this alternate Toy Story 3, and how it influenced the actual finished film. There look to be designs of a conveyor belt sequence where discarded toys go to be destroyed. That plays into the garbage dump finale of Unkrich's Toy Story 3. There's even one illustration of Buzz and several other toys in a series of bins that looks like it was lifted right out of Toy Story 3. Now we know, it was the other way around.
Pixar is going to get a new shot at Toy Story, as the animation giant has circled a June 16, 2017 release date for Toy Story 4. Will there be Transformers? We can only hope.
Movie junkie. Infatuated with comic-book films. ReelBlend cohost. Resident dad. Extroverted introvert. Wants to see the Snyder Cut. Managing Director at CinemaBlend.
Your Daily Blend of Entertainment News
Thank you for signing up to CinemaBlend. You will receive a verification email shortly.
There was a problem. Please refresh the page and try again.