Trailer For 50 Cent's Cancer Movie All Things Fall Apart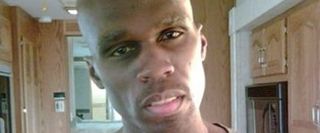 Well folks, the time has finally come. Nearly two years ago we heard about Curtis "50 Cent" Jackson taking on the role of a high school football player ailing from cancer, and today we finally get to see what the now 36-year-old rapper-turned-actor looks like playing someone half his age.
All Things Fall Apart centers around Jackson's Deon, who is on track to make the transition from high school straight into the NFL. But Deon is sidetracked by a form of spinal cancer that takes him down a completely different path, a strange path where Ray Liotta plays a doctor and not a mobster or corrupt cop who may chop your fingers off at any moment. Check out the many shapes and sizes of 50 Cent in the trailer below, courtesy of Yahoo! Movies.
I've got to give Jackson credit. While strapping dreadlocks to him does nothing to make him look younger, seeing the transition he makes from the muscled ball player to the cancer-stricken patient shows a dedication to the role on par with Christian Bale in The Machinist. 50 really took it to another level by losing the weight that he lost for the part and the image we're left with is very gripping and emotional. Also melted away with his muscle is the "rapper" persona that usually can't be shaken. Ludacris is always Ludacris in movies, as is Ice Cube and many others, but Jackson here loses himself in Deon, and it looks like he may deliver a shockingly good performance.
All Things Fall Apart premiered at the Miami International Film Festival last March to mixed reviews, but judging by the trailer it may be worth your while just to see what Jackson does with the role when the film opens this Valentine's Day .
Your Daily Blend of Entertainment News
Thank you for signing up to CinemaBlend. You will receive a verification email shortly.
There was a problem. Please refresh the page and try again.