The Trailer For Horrible Bosses 2 Is Here, Offers Sex Addictions And Hilarity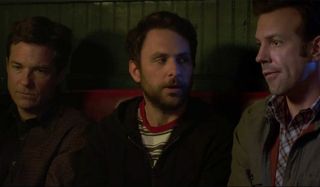 With their Horrible Bosses no longer causing them any trouble, what can a sequel possibly throw Jason Bateman, Charlie Day, and Jason Sudeikis' way that will cause them grief? Well, according to the trailer, which you can watch in all of its glory above, Horrible Bosses 2 will include sex addiction, car chases, kidnapping and poorly named shower devices. Oh, and laughs. Lots and lots and lots of laughs.
You had me at, "Why would your buddy be in the shower?" "Why would your dad!?" Bateman, Day and Sudeikis all look to be in top notch form in the trailer for Horrible Bosses 2 and as this film actually appears to have a strongly-structured plot, hopefully the sequel will be able to easily eclipse its hilarious-but-flimsy predecessor. However, just from the trailer, it looks as though Bateman, Day, and Sudeikis have gelled even tighter together as a comedic threesome. Their combined performance in the original helped to turn a mediocre movie into a good one, and it's plainly obvious that their patter will be the key to the follow-ups success too.
Joining the trio is a whole host of impressive supporting actors, whose combined presence all but confirms that the film should do well on the laughs-per-minute scale. Jennifer Aniston, Kevin Spacey, Jamie Foxx, and, hopefully, the ghost of Colin Farrell's Bobby Pellitt have returned for the ride, and they will be joined by Keegan-Michael Key (who stars in arguably the most under-rated comedy on television, Key & Peele), Breaking Bad's Jonathan Banks, Django Unchained's Christoph Waltz and Captain Kirk himself, Chris Pine.
Horrible Bosses 2 will see Bateman's Nick, Day's Dale, and Sudeikis' Kurt looking to take down a business savvy investor (Waltz) after he steals their idea for the Shower Buddy – which should definitely not be called the Shower Daddy despite what Dale says. In order to get back their business, Dale, Nick and Kurt, once again become criminals and decided to kidnap the investor's son, Rex (Pine). This goes sideways, but he winds up joining their dastardly deeds as their plan begins to unravel before their eyes. Along the way they'll start to explain who was in the film, 9 to 5, to Mothafu**ah Jones, watch Chris Pine "fight clubbing himself," and learn that Jennifer Aniston's Dr. Julia Harris is now a recovering sex addict. In conclusion: there's plenty to look forward too.
Warner Bros. will be hoping that Horrible Bosses 2 can match the first film's $210 million box office total when it's released on November 26th.
Your Daily Blend of Entertainment News
Thank you for signing up to CinemaBlend. You will receive a verification email shortly.
There was a problem. Please refresh the page and try again.