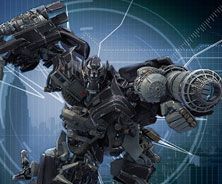 Transformers producer Don Murphy also had in this weekend's insanely fun flop Shoot 'Em Up, and in the process of thanking the people who showed up to see it on his message board Don dropped an update on the status of Transformers 2 as well. Get ready to wait… and blame the strike.
The impending, much talked about, may not even happen, Hollywood strike seems to be the catch-all for anything and everything movie related these days and Transformers 2 is apparently no exception. Murphy says that the reason we haven't heard much about a Transformers sequel so far is that the strike is getting in their way of making it. He says, "the silence you hear is primarily because people are fretting about a presumed strike in June 2008."
In order to get a sequel done any time soon, they'd have to start filming pretty soon. You've probably heard that Hollywood is making movies at a feverish pace, stockpiling new films in a vault somewhere in case everyone stops working. Because of that Murphy says if a strike happens "everything needs to be done filming by the end of May 2008." So it's either get it done before then, or don't bother working on it at all till after the strike is over. Since nobody seems to be talking about it, Optimus may have to wait till after the strike.
Your Daily Blend of Entertainment News
Thank you for signing up to CinemaBlend. You will receive a verification email shortly.
There was a problem. Please refresh the page and try again.