Transformers Has A Massive New Plan To Ramp Up Its Cinematic Universe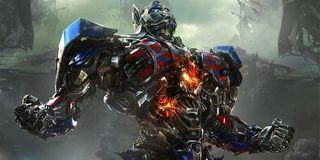 One look at the vast phalanx of comic book superhero films, genre novel adaptations and other chapter-centric properties is all the proof needed that we are in the midst of the tentpole era of the movie industry. In a move that certainly cements this idea, it is being reported that Paramount Pictures has big plans for the future of its Transformers franchise in the form of multi-part sequel films to the already-enduring series of movies. Yeah, that's right, the cinematic world is not quite done with the frenetic, destructive, product-placing world in which Autobots and Decepticons turn our cities into their personal Thunderdome.
According to a scoop by Deadline, producer, Akiva Goldsman has been tasked with facilitating some meetings with producers of the Transformers franchise such as Steven Spielberg, Lorenzo di Bonaventura and the sultan of cinematic 'splosions and ultimate franchise guru, himself, Michael Bay. The purpose of said meetings will be to organize what is being called a "writer's room" which will serve to bounce around ideas, mapping out a long-constructed plot for multiple directly-connected sequel films to add to the Transformers film series.
Certainly, the series' last entry in 2014's Transformers: Age of Extinction was not generally hailed as an artistic masterpiece, but it did set an important benchmark. Grossing a worldwide total of $1.1 billion, virtually matching its predecessor in 2011's Transformers: Dark of the Moon, it served as a litmus test indicating that the property itself is still strong and that the potentially lucrative move of swapping leading men from Shia LaBeouf to the more bankable Mark Wahlberg clearly paid off in dividends. Seeing as Age of Extinction also expanded the film mythos with the famed Dinobots and even left things open-ended with Optimus Prime's new quest to find The Creators, it's clear that there's more than enough water left in this well.
The move certainly comes as no surprise, seeing as the franchise has collectively made Paramount nearly $4 billion across only four films. However, one of the most notable things it accomplished with Age of Extinction was the film's record-breaking performance in China, where it became the highest-grossing film of all time there at $320 million, surpassing even Avatar. As a result, the Transformers film series, walking into its prospective fifth and sixth (maybe even seventh) iterations could be looking to cultivate a market that has yet to be fully tapped.
Now, with the presence of an apparently potent addition to the global audience, Paramount appears to be applying a strategy to the Transformers series that is becoming conventional in the tentpole era; bundling multiple pre-production processes for the same property. For example, James Cameron is currently over at Fox overseeing the studio's $900 million investment with a collective of writers who hammer out long-term storyline plans for his three sequels to Avatar. Likewise, Disney, whose subsidiary, Marvel Studios has already set the bar high for meticulous long-term IP planning with their Avengers-centric films, are also handling Star Wars in a similar manner. With important points on the Star Wars road map firmly set, a team of writers secretly flesh out the continuity-connected details that directly continue from this December's kick-off, The Force Awakens, its two sequels and the spinoff films.
Thus, as basic economics suggest, studios get the most "bang for their buck" by bundling the pre-production processes for multiple films, saving themselves potentially substantial costs. While no details have been revealed regarding how many more Transformers sequels would be on tap, it does appear that Michael Bay is not quite ready to quit his lucrative hobby of having giant innately merchandisable robots wreck our world with wanton disregard, while some Victoria's Secret model arches her back seductively in slow motion as atomic bombs detonate in the background.
Your Daily Blend of Entertainment News