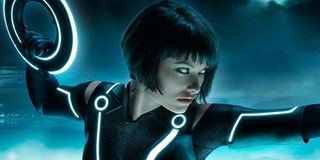 Hopefully you weren't really, really looking forward to Disney's Tron 3, because if you were, we've got some bad news for you. Reports just dropped that the House of Mouse just decided to pull the plug on their next journey to the Grid.
According to The Hollywood Reporter, Disney has decided not to move forward with the third installment of videogame-based sci-fi franchise. Though it was never officially given the go ahead, director Joseph Kosinski and stars Olivia Wilde and Garrett Hedlund were reportedly all on board to return to their respective roles from 2010's Tron: Legacy. Preparation was even under way, and many assumed it was actually going to film sometime later this year.
There are no specific reasons given for Disney's decision, and though the report mentions that the producers wanted to get Jared Leto involved, but failed to seal the deal, that seems like an unlikely reason to cancel an entire movie. This new is especially strange because over the last two or three months, there have been reports of substantial forward movement.
As mentioned, the primary players were all reportedly game to come back, there was news that it would film this fall in Vancouver, BC, and it even had a tentative title, Tron: Ascension. We have even heard potential plot details, as the story was supposedly going to revolve around the artificially intelligent warrior program, Quorra (Wilde), and how she adapts to the life in the real world when she leaves the Grid after the events of Legacy.
Legacy did make money—$400 million globally against a $170 million budget—but it wasn't a runaway hit, and it was met with modest to tepid reactions from fans and critics alike, so that fact that another sequel was in the works was something of a surprise to many. It just seems like with all the work they put in, there must have been something seriously wrong with the script or some other major piece of the puzzle. That's a lot of effort to just flush away. Maybe they couldn't get Daft Punk to score this one.
Of course, this doesn't necessarily mean Tron 3 won't happen, like ever. You may remember that there was a fairly substantial gap between the first film in the series, 1982's Tron, and the second, which didn't hit theaters until 28 years later. Maybe that's their plan, they're just going to wait almost three decades between chapters. The first film wasn't a huge hit, but over the years it became a cult classic and wove itself into the fabric of popular culture until it seemed like a good idea to revisit the Jeff Bridges-fronted property.
So there you have it, Tron 3 is not happening. Does this make you happy, sad, or are you totally indifferent? The last film looked pretty, but that's really all it had going for it. Let us know what you think about this news below.
Your Daily Blend of Entertainment News
Your Daily Blend of Entertainment News
Thank you for signing up to CinemaBlend. You will receive a verification email shortly.
There was a problem. Please refresh the page and try again.