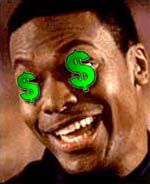 Chris Tucker has finally managed to put the money where his inordinately big mouth is. Whether or not he's actually worth it (which I dare say is up for some serious debate), Rush Hour 3 producers have caved to Tucker's demands for a $20 million salary (the same amount he was paid for the second film) against 20% of the gross, which could equal big bucks if the movie does as well as its predecessors.
So, if Tucker made that much on the last film, why would it be such a big deal now? If you've been paying attention to the box office you'd know film studios are scared shirtless over the major drop in sales. Big budget movies are risky business these days and the best place to start cutting is actor salaries. As we all know, they're grossly overpaid as it is - pun intended.
According to Variety Tucker received the promised paycheck after giving up on demands for final script approval. Perhaps he's figured out he's going to sound loud and obnoxious no matter what the line is, so who cares what words are coming out of his mouth.
A somewhat humbler Chan is only receiving $15 million dollars against 15% of the gross. He can expect a much bigger check than Tucker though. Mr. Chan will own distribution rights for the film in Hong Kong and China where his name carries a heck of a lot more weight than Tucker's does here.
Now that the big stars are in place the little details can be addressed, like getting a budget and approval to actually make the film. Jeff Nathanson, writer for Rush Hour 2 is attached to put together a script and Brett Ratner, who directed the first two films will also return. Between Ratner's many other projects on deck (including the much debated X-Men 3) it's hard to understand how he'll find time. Producers want to shoot the film next summer for a 2007 release.
Your Daily Blend of Entertainment News
Thank you for signing up to CinemaBlend. You will receive a verification email shortly.
There was a problem. Please refresh the page and try again.