Why Bill Murray Finally Agreed To Do A Ghostbusters Cameo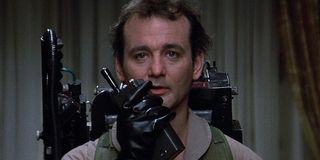 Almost since Ghostbusters 2 back in 1989, there has been talk of getting the beige jumpsuit-wearing team back together. And almost as long, Bill Murray has wanted little to no part in that. When asked about the possibility, his responses have ranged from vague disinterest to out-and-out nos. That said, he recently filmed a small part in director Paul Feig's upcoming female-centric Ghostbusters reboot, and just revealed the reason for his change of heart.
At a screening up his upcoming Rock the Kasbah, Vulture caught up with Murray and asked him why he agreed to appear. After praising the new cast, which includes Melissa McCarthy, Kristen Wiig, Leslie Jones, and Kate McKinnon, as well as Feig, he said:
While Murray's role in Ghostbusters is, by his own admission, not very large, it sounds like more than just a simple walk-on cameo. His fellow original Ghostbuster, Dan Aykroyd, also filmed a small part, though his sounds like he's just going to show up driving a cab in one scene.
When Murray pops up, he will play a character who is out to disprove and debunk the new Ghostbusters. This could be something as simple as a clip of an "expert" on a talk show, or it could prove to be a bit more substantial. Either way, while it sounds like he had fun on set and shooting his part, he didn't want to overstay his welcome or be a distraction. He added:
Currently filming in the Northeast, the plot of the new Ghostbusters, as we currently understand it, revolves around Kristen Wiig's character, Erin Gilbert. She writes a book about how ghosts are real and among us with Melissa McCarthy's character, Abby Yates. No one really notices until Erin gets a job teaching at Columbia University, but when her colleagues discover her earlier work, she gets laughed out of academia. From there, she reunites with Abby, as well as Leslie Jones' Patty Tolan and Kate McKinnon's Jillian Holtzmann, for some serious paranormal investigation.
Directed by Paul Feig, Ghostbusters also has a fantastic supporting cast in place, including Chris Hemsworth, Michael Kenneth Williams, Andy Garcia, Cecily Strong, and Matt Walsh. With Bill Murray in tow, the film hits theaters on July 15, 2016.
Your Daily Blend of Entertainment News