Uma Thurman Toasts Tarantino By Letting Him Drink Out Of Her Shoe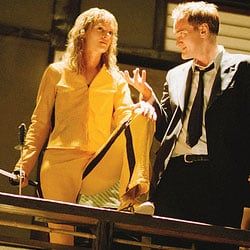 The Friar's Club hosted Quentin Tarantino this week and, for some reason, unlike their roasts of completely uninteresting people, this one won't be televised. It's a shame, in particular, because Uma Thurman was there and according to the alcoholics at Film Drunk her affectionate rant against the Kill Bill director was nothing short of glorious.
They have a full report from the roast, but in particular check out their transcription of Uma Thurman's hilariously angry toast of Quentin, during which she took off her shoes (referencing his rumored foot fetish), filled them with wine, and then let him take a drink:
I believe every word. Now get back to fighting with each other and bring us Kill Bill vol. 3.
Your Daily Blend of Entertainment News
Thank you for signing up to CinemaBlend. You will receive a verification email shortly.
There was a problem. Please refresh the page and try again.