Underworld 5 Will Happen With Kate Beckinsale, Get The Details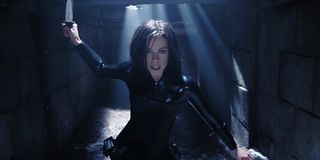 In this day and age, where studios view every film as a potential franchise starter, it shouldn't surprise me when I hear about an unexpected sequel. Still, every time there's news about a new Underworld movie my first reaction is, "Really?" Well, Underworld 5, also known as Underworld: Next Generation, is indeed happening, and it will once again feature the true face of the franchise, Kate Beckinsale.
According to The Hollywood Reporter, Beckinsale is set to reprise her role as the badass vampire Selene, who has appeared as the protagonist in three of the previous four installments. She sat out 2009's Underworld: Rise of the Lycans. At this point in the franchise, she has a daughter with her lycan/vampire hybrid hubby Michael Corvin (Scott Speedman), though at the end of the last film, Underworld: Awakening, he is nowhere to be found, which will probably come into play at some point.
Right now there aren't a ton of details regarding Underworld 5, as they're being kept under tight lock and key. The few tidbits we do know, however, indicate that the plot sees the never-ending war between vampires and lycans continue as new generations on both sides take up the conflict. Makes sense that it would be called Next Generation. Theo James has a small role in Awakening as a young vampire named David, and is set to reprise his role in the new film, so perhaps he could be part of the driving force behind this reignited feud. He does sustain a serious injury and see much of his coven slaughtered, which sounds like the makings of one pissed off fanatic vampire warrior to me.
Anna Foerster has been tapped to direct Underworld 5. All of her directorial efforts up to this point have been in TV, on shows like Outlander and Criminal Minds, but she has a ton of experience behind the camera as a director of photography, second unit director, and assistant director. She's worked a great deal with the master of disaster Roland Emmerich, lensing movies like White House Down and Anonymous, as well as contributing footage to The Day After Tomorrow and 10,000 BC. So she's certainly no stranger to working on big movies, and though the franchise has primarily featured a female protagonist, this marks the first time that a woman has been hired to direct an installment of the action-centric vampire series.
Underworld 5 is scheduled to film in Prague starting in October, and you have to assume that Prague in the fall is an ideal place to shoot a movie about ancient sects of vampires and werewolves battling each other.
Your Daily Blend of Entertainment News