Outlander Is About To Get A Lot Darker, Watch The New Preview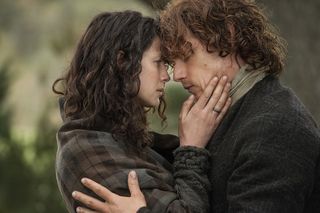 Outlander returns for the second half of its first season in 2015, but Starz hasn't left us high and dry. Today, the premium cable channel released a new video, which teases a much darker second half to the first season of Ronald D. Moore's series...
"These are dangerous times, Mo nighean donn," Jamie tells Claire at the start of the new featurette for Outlander. He's not joking either, as the video later shows Claire at the mercy of Captain Jack Randall. Fortunately, Jamie is there to rescue his Sassenach, as we see him crouched in the window, thanking him to take his hands off his wife.
It also looks like Geillis is demanding some answers. Is Claire ready to give them?
Beyond that, the video offers some intriguing glimpses of what's to come, including Jamie at knifepoint...
Some kind of ritual...
And Claire with... a baby?
It all leads up to Sam Heughan telling fans, "If you enjoyed the first half of the season, the second half of the season is a lot darker."
Je suis prest!
Starz also released this great shot of Jamie and Claire...
April still seems like an eternity away at this point. But for those who have yet to check out Ronald D. Moore's adaptation of Diana Gabaldon's beloved series, the first half of Outlander's debut season is set to marathon this Christmas. Starz will whet fans' appetites for that by airing an Outlander-themed Yule Log broadcast on Thursday, December 25 at 2:45 p.m. ET/PT, which will include a countdown clock to the marathon, which starts at 3:00 p.m.. But you don't have to wait until Christmas to watch the log. The full hour and a half video is already up online and available for viewing. Enjoy the crackling fire, accompanied by Bear McCreary's awesome Outlander score, and keep your eyes on the dogs, as they tend to move around...
Outlander returns for the second half of Season 1 on Saturday, April 4th at 9PM ET/PT on Starz. (And the series has already been renewed for Season 2!)
Your Daily Blend of Entertainment News
Thank you for signing up to CinemaBlend. You will receive a verification email shortly.
There was a problem. Please refresh the page and try again.