Update From Producer Of Bone And Tom & Jerry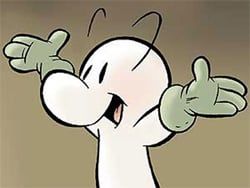 When you hear Tom and Jerry and "live action/animation hybrid" in the same sentence, do you feel your blood start to boil a little? Do visions of 2000's Rocky and Bullwinkle flood your mind with thoughts of murderous rage? Well calm down a little bit, because the project has fallen into the capable hands of producer Dan Lin. Though hardly a household name, Lin's latest project, Sherlock Holmes is promising to become one of the years favorites.
The folks over at Collider have been running stories all week from a series of interviews with the producer and in today's episode we get an update on messrs. Tom & Jerry as well as his upcoming comic book adaptation, Bone, about three awkwardly shaped cousins from Boneville locked in an epic journey to save the world, which will also be animated.
Quite possibly the most reassuring bit from the entire interview (for Bone fans at least) is Lin's statement that they'll be deriving all of the content for the film directly from Jeff Smiths comic, which ran for 13 years. That's a lot of content to pick from, but it seems that they'll be focusing on the origin (good place to start, eh?) and the only question is how many of the first books will the movie take us through.
"If anything, right now we're discussing how many books should be in the first movie and if we do things right hopefully there'll be multiple movies to tell. But right now there's a discussion of do we use the first 3 books? Do we use the first 4 books of Bone? That's the discussion but the source material is all from Jeff's books."
The "Shrek meets Lord of the Rings" animated feature is next up on Lin's expansive production schedule, but he found time during the interview to fill us in on how Tom and Jerry will be shaping up.
"Yeah, I would say certainly look-wise you can talk about Scooby-Doo. You can talk about Alvin. What I mean is CGI creations of the cat and the mouse."
He didn't give Collider any tips about how the story has developed from this Variety article posted earlier this year, but from the sound of it, we'll be getting a look at just how Tom and Jerry come to know each other, where the rivalry began, and how they must look past their differences to overcome a common obstacle.
Lin says that he loves the show so what we're hoping for is an honest handling of the material regardless of the medium. Adding CG to something as sacred as Tom and Jerry may be a franchise killer, but in this day and age what else can we expect right?
Your Daily Blend of Entertainment News
Thank you for signing up to CinemaBlend. You will receive a verification email shortly.
There was a problem. Please refresh the page and try again.