Uwe Boll Blames Billy Zane For His Failure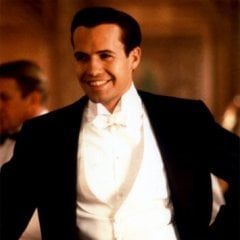 Since pretty much everyone has gotten the word that Uwe Boll's movies are worthless, his tactics to drum up publicity for his movies are getting more and more pathetic. As Postal prepares to open against Indiana Jones later this month, and everyone continues to not care, Boll is taking his latest publicity stunt to court. The Hollywood Reporter writes that Boll is suing Billy Zane, a.k.a. Caledon Hockley III from Titanic, essentially blaming Zane for Bloodrayne being a gigantic flop.
According to the article, Boll is suing Zane for $700,000, saying Zane suggested that Romar Entertainment distribute Bloodrayne and promise the movie would play in at least 2,000 theatres. It actually wound up opening in about 950 theatres, and as a result made about $4 million worldwide. By comparison, Iron Man will probably make that much money today.
I would call this pathetic if everything Boll has done before didn't fall right in line with something like this. Do you think he really want the money from Zane, or is he just doing it to get his name in the papers, the way he did when he suggested that an online petition would get him to stop making movies? Either way, it's not going to work. No one is going to see Postal, especially not Billy Zane. And Boll will continue to be an annoying tumor on an industry that's already irritating enough without him.
Your Daily Blend of Entertainment News
Staff Writer at CinemaBlend