Veronica Mars Movie Gets Its Kickstarter Funding: What Should Happen?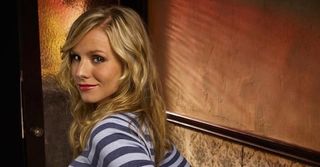 It didn't take thirty days for Veronica Mars fans to pledge $2 million. It took less than half a day. Earlier today, Veronica Mars creator Rob Thomas and series star Kristen Bell enlisted the help of fans to raise $2 million to put toward the budget of a movie that would follow up on the characters featured in the UPN/CW series, setting the campaign for 30 days, in the hopes that this would be enough time to generate the fan interest and support.
Fans showed up with their wallets open, breaking a Kickstarter record by crossing the $1 million mark for the film's campaign in less than five hours. The ticker continued to rise and this evening, the $2 million goal has finally been met, with 29 days left on the clock.
Assuming everything goes according to schedule and plan, we should see the Veronica Mars movie at some point early next year. In the interest of optimism, and excitement over the incredibly successful and speedy campaign to raise the minimum amount of money needed to make the film, we don't think it's too soon to start speculating (obsessing) over the plot of this anticipated follow-up.
Before we can look ahead, we need to look back at where the series left off. And if you aren't caught up on the series and plan to watch, read no further or consider yourself majorly spoiler-warned!
In the series finale, Veronica and Logan were on the outs, but there was a sliver of hope for them as Logan came to Veronica's aid in targeting the guy who posted a dirty video of her online. That sliver of hope came in the form of a look passed between the two characters, whose on-again-off-again relationship was one of the focal points of the series. It's highly likely that many shippers out there are expecting this movie to be a LoVe story. At the very least, the relationship should be addressed.
Other focal points in the series were on Veronica's work as a private detective and her relationship with her father, which also factored into one of the major cliffhangers of the series. Veronica stole a hard drive from Jake Kane's house and, with Mac's help, hacked into it and found information and videos about the secret Castle organization at Hearst College, which exposed wealthy businessmen, politicians and other important people of their deepest, darkest secrets. Veronica passed the list of names on to the college newspaper editor and gave the hard drive back to Kane. So the truly incriminating information was not exposed, but who knows? That piece of evidence is literally full of potential for relevant scandal, should it resurface.
In a related development, Veronica was caught on tape breaking in and out of the Kane mansion, and probably would've been in major legal trouble for that, if not for Keith wiping the DVR hard drive to protect her. The choice to protect his daughter likely cost Keith the Sheriff election and there may have been other legal issues to follow, had the series gone forward. Whether or not the events in the series' finale will factor into the movie's plot remain to be seen. With enough time gone by, it's possible none of it will be directly relevant or even necessary to address beyond a mention or two to catch us up on what the characters have been up to since.
And then there's the big mystery to consider. At the Kickstarter page, Rob Thomas said:
So Veronica has given up the private eye gig. What has she been doing with herself since Season 3 ended? Did she take on some other law enforcement-related work? Or perhaps she turned her photography hobby into a profession. The further away she's moved from her work solving crimes, the more challenging it might be for her to solve a new and important case, but that could make for some interesting obstacles as she tries to dust off her magnifying glass and sharpen her eye in order to solve the mystery.
That brings us to the nature of the mystery. Who's dead? Is it morbid and pessimistic to speculate that the big thing that brings her back to detective work is the death of someone she knows? If not death, perhaps something nearly as devastating. Maybe someone's gone missing. That would be less dreadful, wouldn't it? But would it be enough?
Looking at the start of the series, what worked so beautifully about Veronica Mars in that first season was how attached the lead and some of the other characters were to the central mystery. Learning who killed Lilly Kane wasn't just a matter of solving a case for Veronica. It was an opportunity to free a ghost and give herself some genuine peace of mind. The death of her best friend turned her world upside down, causing major grief, a drastic change to her social status, the end of her parents' marriage - and a little less directly but no less horrific - being raped at a party. A lot was riding on that mystery, and it paid off at the end of the season when it was resolved. We should expect a big mystery to go with the big screen for the film, right? The stakes should be higher, and that may come at the cost of one of the lead characters. As sad as we'd be to see one of our favorite characters killed off and made the film's "Lilly Kane," it would set the movie up for an emotional story and one worthy of the series' excellent first season. If it isn't a death, then I would speculate that it would be something that Veronica is emotionally tied to in some way, which seems like an fairly obvious prediction when considering the "something big" that's going to bring her back to her calling.
Rob Thomas joked today that he was stretching the Kickstarter goal to $3 million "or Logan Echolls doesn't survive the movie." Of course, he was kidding. And I think we should be able to cross Logan off the death-list. Should the plot involve the death of a character, I can't imagine it would be Logan, unless Jason Dohring wasn't available. The same should be said for Keith, as Veronica's relationship with her father - and Kristen Bell's chemistry with Enrico Colantoni - is too great not to be used in the film. But that would be a major twist, and they could always work Colantoni into the film through flashback. I'm having Season 2 plane exploding flashbacks now. I'm not prepared for something terrible to happen to Keith, even if it's another fake-out.
Moving on… We have characters like Mac (Tina Majorino), Weevil (Francis Capra), Dick (Ryan Hansen), Duncan (Teddy Dunn), Wallace (Percy Daggs III), Parker (Julie Gonzalo) and Piz (Chris Lowell). There are also recurring characters like Logan's sister Trina (Alyson Hannigan), Deputy Leo (Max Greenfield) and Vinnie Van Lowe (Ken Marino), who might factor in.
Regardless of what the plot involves, a big screen follow-up presents a world of possibilities for the character and the story. More importantly, it gives Rob Thomas the opportunity to offer better closure to the story, and it gives Kristen Bell the chance to return to the role of the smart and witty sleuth. We have months to speculate and hope that things stay on track for the film going forward.
Assistant Managing Editor
Kelly joined CinemaBlend as a freelance TV news writer in 2006 and went on to serve as the site's TV Editor before moving over to other roles on the site. At present, she's an Assistant Managing Editor who spends much of her time brainstorming and editing feature content on the site.
Your Daily Blend of Entertainment News
Thank you for signing up to CinemaBlend. You will receive a verification email shortly.
There was a problem. Please refresh the page and try again.