Video Game Executive Swears A Bioshock Movie Is Still Possible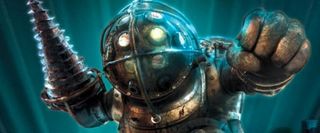 We've been writing about the stalled Bioshock project since as early as June 2009 when attached director Gore Verbinski confessed that the budget probably just wasn't in place to make it happen. Earlier this year he got a little more serious about he reasons he wouldn't be able to make it, explaining that no one was willing to back an R-rated adaptation of the famous video game, but that he didn't think it was possible to bring the violent video game in under a PG-13 rating.
With Verbinski gone and the news quiet since then, it seemed likely that dreams of a Bioshock movie had been dashed. But while there's no word on this PG-13 vs. R controversy, the creative director of Bioshock creator Irrational Games is unsurprisingly trying to keep hope alive. Talking to Industry Gamers he made pretty much the vaguest promise possible that a Bioshock movie could still happen down the line:
That quote basically means nothing in corporate speak-- a man who has made a lot of money off a property doesn't want to rule out making more money in a different venue. But as always with these kinds of stories, if you want to use it as an excuse to still hope this movie happens, more power to you. I'm still not holding my breath and don't exactly think you should either.
Staff Writer at CinemaBlend
Your Daily Blend of Entertainment News
Thank you for signing up to CinemaBlend. You will receive a verification email shortly.
There was a problem. Please refresh the page and try again.