Video Interviews: Harry Potter Stars Hit The Red Carpet At Wizarding World In Orlando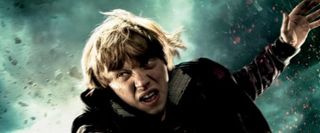 Though there will still probably be plenty more opportunities to celebrate the Harry Potter movies, the celebration at the Wizarding World of Harry Potter in Orlando last weekend felt a little like a last hurrah. With a ton of cast members from the long-running franchise gathered, along with the producers and director David Yates, the DVD and Blu-Ray release of Harry Potter and the Deathly Hallows: Part 1 was celebrated in the most appropriate place imaginable: Hogsmeade itself. Rolling out a 200-foot red carpet that stretched all the way to the next "land" at Universal's Islands of Adventure theme park, the event brought in journalists from all over the world, kids decked out in Harry Potter scarves and wands and glasses, and most importantly, the talent responsible for making these movies possible in the first place.
I spent close to two full days in Hogsmeade and the accompanying Hogwarts castle, first to interview Lucius Malfoy (Jason Isaacs), Luna Lovegood (Evanna Lynch) and Arthur Weasley (Mark Williams) about their experiences on the films and what their lives will be like now that those are over. Those relatively lengthy interviews will be up tomorrow, along with some further thoughts on the surreal experience of flying to Florida only to enter a snow-covered English village where butterbeer is sold from barrels on the street and Moaning Myrtle cries in the bathroom. But first, check out my coverage from the red carpet, where the actor and producer David Heyman stopped by to share in the spectacle at the Wizarding World of Harry Potter.
RUPERT GRINT
Rupert was the only person I talked to on the red carpet who I didn't record on camera, so you'll have to read this transcript and imagine his slightly abashed British accent saying all of it. I know you can use the power of your imagination here.
I heard you were walking around the park the other day by yourself?
Really? I don't remember it. Maybe I wasn't quite conscious.
You'd think you couldn't go into a place like this without having people flip out.
Yeah, I'm ginger, so I stand out. Yeah, it's cool. I love meeting all those guys, seeing them all excited. It's all great.
Do you feel like now that the movies are over you can handle the fans without the street of filming in-between?
Yeah, it's always been gradually becoming more and more part of my life as it's gone on. It kind of becomes normal-- getting recognized is kind of a routine, you kind of get used to it. Especially these kinds of events, when people are screaming and stuff, it's kind of scary.
When you first started, be did you feel like it was going to be like this forever?
Yeah, it's all very overwhelming. I could never really remember these kinds of things after. But I enjoy them, they're fun.
Do you ever think you'll get old enough that people won't recognize you as Ron Weasley?
I don't know. I think I'll always be Ron, no matter what happens in the future. As long as I'm ginger.
WARWICK DAVIS
Doing double duty in Deathly Hallows as both Griphook the Goblin and Professor Flitwick, Davis talked to me about seeing himself onscreen buried in all those prosthetics, moving on to the new project Life's Too Short with Ricky Gervais, and the surreal feeling of standing the Hogsmeade at Islands of Adventure.
JAMES AND OLIVER PHELPS
I was standing right outside the park's version of Zonko's Joke Shop when talking to the actors who play the Weasley twins, so it seemed only appropriate to talk about the fact that Zonko's sold toys that were very clearly Weasley's Wizard Wheezes. We also talked about tips for using prop wands when on the set, and how the two twins are moving on with their careers. You may also notice a moment with the very excited fans in the middle of the interview.
JESSIE CAVE
Cave was one of the funniest parts of Harry Potter and the Half-Blood Prince, but her character Lavender Brown took a slightly darker turn in Deathly Hallows. We talked about that and also played a little bit of a word association game.
DAVID HEYMAN
On a tour earlier that day of the ride Harry Potter and the Forbidden Journey, a guide pointed out that there's a portrait of Heyman himself hanging inside the castle, along with the talking portraits of Hogwarts' four founders. I asked Heyman about how that particular Easter Egg made its way into the films and then to the park in Orlando, and also about how he's moving on from such a colossal experience as producing the Harry Potter films.
NICK MORAN
I admit-- before I knew his name I referred to Moran as "The Hot Snatcher," the guy who captures Harry, Ron and Hermione in the woods in Deathly Hallows Part 1 and then rushes the bridge that Neville blows up in Part 2. I talked to him about the very elaborate filming of that sequence, and you'll notice he's charming enough to even crack a joke when someone standing behind me took a slight tumble (he was fine, by the way).
(Huge, huge thanks to JoBlo's Andrew Hegele, who held the camera for me on the red carpet and made this whole experience that much easier.
Staff Writer at CinemaBlend
Your Daily Blend of Entertainment News
Thank you for signing up to CinemaBlend. You will receive a verification email shortly.
There was a problem. Please refresh the page and try again.