This Video Is A Reminder Of Everything Wrong With Harry Potter And The Deathly Hallows Part I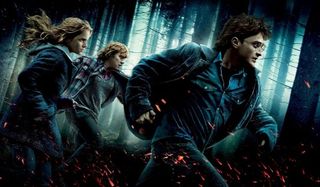 Every now and then, Cinema Sins manages to land himself a film that he severely doesn't enjoy. We're not talking about a mild dislike, or even plain dislike for comedic purposes, we're talking pretty vitriolic levels of criticism. Harry Potter And The Deathly Hallows Part I is the latest film to have earned such a crown, and you can see all 21 minutes (or less) of Jeremy's criticism below. Potter fans, you may want to brace yourselves.
Cinema Sins has targeted one of the most beloved literary adaptations with this recent video, and to be fair there are some pretty good criticisms mixed in with the total package. Right out of the gate, it points out one of the biggest flaws in a pretty controversial decision that David Yates and company made when they adapted Harry Potter And The Half Blood Prince.That decision is, of course, the addition of the battle sequence that destroys the Weasley house in the sixth film, only for it to be in tip top shape (or what passes for it,) in 7.1. Seriously guys, you should have just left Harry Potter And The Half Blood Prince alone, as it was interesting enough without the short, additional sequence of destruction.
For the most part though, the film's litany of sins are, as usual, criticisms of dramatic and artistic license getting in the way of what would seem like the most logical course of action in real life. Why didn't those guys shoot Harry and his pals at the table? Why is there a foot chase in a magical powered wizard movie? Well, it's probably the same reason the slow motion kicks in for the disapperation sequence at Malfoy Manor... because it'd be a boring movie without it! Even a well-built character moment like the scene where Harry and Hermione are dancing in the tent can't escape Jeremy's torrent of complaints.
Still, this is a Cinema Sins video, and if it pulled any punches on the Harry Potter franchise that he would normally deliver to any other film franchise, we'd fault him for that. Not to mention Harry Potter And The Deathly Hallows Part I's total sin count of 169 sins doesn't have anything on Transformers: Age Of Extinction's 234 sins. And that's not even counting the bonus rounds that heaped on a bunch of extra sins that catapulted the fourth Transformers film into really, really sinful territory. While the first part of the Harry PotterHarry Potter And The Deathly Hallows Part II's future sin score, but we have an idea that it'll be its own fantastic beast considering it got its own video.
Harry Potter And The Deathly Hallows Part I is available on Blu-ray, DVD, and Digital HD. If you plan on rebutting the king of cinematic sins and his case against the Magical Arts, you're about due for a refresher course.
Your Daily Blend of Entertainment News
Senior Movies Contributor
CinemaBlend's James Bond (expert). Also versed in Large Scale Aggressors, time travel, and Guillermo del Toro. He fights for The User.