Vin Diesel Confirms Fast And Furious 8, Get The Details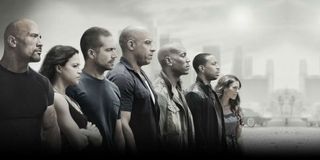 With Furious 7 roaring past the billion-dollar mark at the box office, Fast and Furious 8 seemed like an inevitability. There's already been talk and a few potential plot details mentioned, but with the tragic death of franchise stalwart Paul Walker, it sounded like they might take some time to regroup before moving forward. However, it was just revealed that they already have a potential release date for the next installment, and it's sooner than you might have expected.
Talking at CinemaCon in Las Vegas today, Walker's co-headliner Vin Diesel revealed that they are aiming to get the next movie into theaters on April 14, 2017. There aren't really any other significant details to share at this point, but with a date less than two years away, that seems to indicate that Universal Pictures has a plan in place, and from what Diesel said in the build up to Furious 7, that could very well be the case.
Doing the press rounds for the film, which became the fastest movie to reach $1 billion dollars at the box office milestone, Diesel revealed a couple juicy details about the current plans for Fast and Furious 8. One is that cinematic badass Kurt Russell's character, the shadowy government agent known only as Mr. Nobody, could play a bigger role in the next adventure. In fact, Diesel said that Russell was hired for Furious 7 with the intention of beefing up his presence in future arcs.
It also sounds like Fast and Furious 8 is taking the show on the road. No stranger to exotic locales, the franchise has been all over the world, but their roots have always remained in Southern California. Again, according to Diesel, New York, a city they haven't visited on screen yet, will figure prominently in the story. Whether that will be the main location, or one of many on a whirlwind tour, remains to be seen, but it'll be cool to see jazzed up hot rods tearing through the Big Apple.
In addition to beefing up Mr. Nobody's role, it also sounds like they're looking to invite a familiar face back to the party in the form of Eva Mendes. Reports circulated a while back that she could reprise her role as U.S. Customs Agent Monica Fuentes from 2 Fast 2 Furious. She shows up in the post-credits scene from Fast Five, and if the story includes more government involvement, it's entirely plausible that she could show up.
We don't know much about Fast and Furious 8, like whether or not Furious 7 helmer James Wan will be back for more, but now we know when to expect it: April 14, 2017.
Your Daily Blend of Entertainment News
Your Daily Blend of Entertainment News
Thank you for signing up to CinemaBlend. You will receive a verification email shortly.
There was a problem. Please refresh the page and try again.