Vin Diesel Determined To Make Riddick 3 Rated-R At Any Cost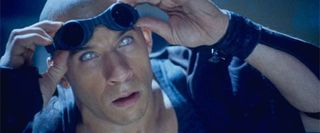 Say what you want about Vin Diesel but when he believes in something, he commits himself to it like no other. Maybe that's why he has one of the most active and interactive fan pages on Facebook. Vin gets deeply involved with his fans, and they love him for it. He's pretty deeply involved in making another Chronicles of Riddick movie too. In fact, it's safe to say this thing is only happening because he loves it so much that he's been throwing everything he has into it. The second installment in the franchise never did as well as hoped, and for any other movie series that would have been the end of it, but Vin has refused to let it die.
So now Diesel and Riddick director David Twohy are moving forward with a third entry in the series, and they're doing it without all the big budgets and crazy Hollywood spending used on the second film. Twohy and Diesel took to Vin's Facebook page today to answer questions from fans about the new movie, and they confirmed that they're getting back to basics.
Twohy explains, "It's going to be a lot like Pitch Black because of the money involved." It's not just about money though. It's also about making the movie they want to make. David explains that part of the reason they're going with less money is that, "We want to maintain our R-rating, at any cost." To which Vin rather emphatically and repeatedly added, "We're committed to going R."
That's a big deal in Hollywood's modern PG-13 frenzy. In a world where even Die Hard movies can't get made unless they're watered down to a PG-13, in an environment where Oscar winning R-rated films are being censored to fit into a family friendly rating, a commitment to R is no easy thing. That's why Twohy says, "We are going to be lean and we're gonna do it quick and it's going to be a cool movie."
Pitch Black was a gritty, simple, sharply made little R-rated science fiction film. It launched the mega-fame of Vin Diesel and deserved pretty much all the praise it got, and there was a lot of it. The sequel took Diesel's Riddick character out into a massive, Star Wars-sized universe, causing the project's budget to balloon and, oh by the way, forcing Twohy to turn his gritty R-rated universe into a family friendly PG-13. Getting back to the basics which made things work so well in the first place is definitely the way to go at this point.
So what will it be about? Team Riddick isn't talking though Twohy promises they'll have something for the Vin Diesel loving ladies. He says, "We do have seduction. In this movie we do have seduction."
Your Daily Blend of Entertainment News
Thank you for signing up to CinemaBlend. You will receive a verification email shortly.
There was a problem. Please refresh the page and try again.