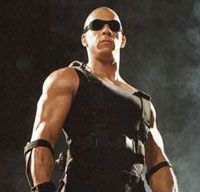 Terminator 4 rumors are flying fast and furious this week (no pun intended). Earlier in the week word hit the net that Charlies Angels helmer McG might be up to direct the movie, and now we have a line on who might end up being the new Terminator, since Arnie is increasingly old and indisposed.
Reliable sources all over the web are claiming that Vin Diesel could be taking on the role of the film's robotic killing machine. What none of those sources seem to be saying is where they got this information, so take it as a rumor for the moment. It might however make sense for this news to leak out now. A few days ago news broke that the big baldie was in negotiations to return to The Fast and The Furious for the racing franchise's furious fourth sequel.
On the other hand, FF4 is supposed to be one of those pre-strike rush projects, and so is T4, so it might be difficult for Vin to squeeze both of them in between now and next summer. If they're really moving ahead on Terminator 4 though, and they're really looking for a replacement, then they need Vin Diesel. It's not like there are many other options, unless they're willing to go with an unknown. If they want a name, the list for who else they might be able to plug in is pretty short. I guess The Rock would work, but frankly I'd rather see Diesel. Let's hope they don't end up settling for Karl Urban. I love the guy, but casting him as a killing machine is almost cliché at this point. He's running out of failed fighting franchises to wear weird hair in.
Your Daily Blend of Entertainment News