Vinnie Jones Lined Up For Thriller Killer's List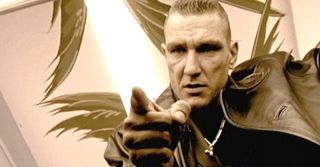 After playing a string of outlandish badasses like the intimidating thug Big Chris in Guy Ritchie's Lock, Stock, and Two Smoking Barrels, a gonzo soccer hooligan in the zany comedy Eurotrip, and the unstoppable Juggernaut in X-Men: The Last Stand, British footballer-turned-leading man Vinnie Jones has been turning to more earnest drama of late. In January, he signed on to co-star in the World War I film The 34th Battalion, and now he's lined up for a gritty thriller called The Killer's List.
Deadline reports The Killer's List has Jones attached to play a widower and retired hitman whose forced to return to his killer craft once son is kidnapped. The script by Brian Vining kicks off with Jones' character receiving a cardboard box that contains a cell phone, demands that he murder five of his former associates, and the fingers of his young son. Yipes. With a plot point like that, we anticipate this thriller will be brutal.
Phil Avalon will produce and direct the pic, which is slated to shoot in Queensland, Australia—in Brisbane and along the Gold Coast—this July. Deadline notes that production of The 34th Battalion, which is also shooting in Australia, though over in New South Wales, has been bumped to later this year.
This premise seems a good fit for Jones. It sounds like Taken with an even harder edge. And lest we forget, Jones is solid as a loving, protective father with a penchant for violence. For proof, revisit this scene from Lock, Stock, where Big Chris (Jones) responds to a man threatening the well being of his son, Little Chris.
'Nuff said.
In the meantime, look for Jones in the upcoming Sylvester Stallone/Arnold Schwarzenegger action flick The Tomb, or revisit his turn as Bullet-Tooth Tony in Snatch, which is now streaming.
Your Daily Blend of Entertainment News
Staff writer at CinemaBlend.