Wait, Django Might Crossover With This Legendary Franchise?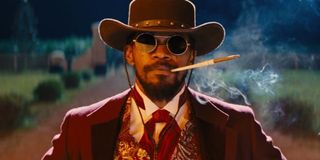 Yet another day in the Sony hack scandal of 2014, and apparently the Men in Black/22 Jump Street film isn't the only crossover Sony would like to see happen. An exchange between Amy Pascal, co-chairman of Sony Entertainment Pictures, and Academy Award-winning director, Quentin Tarantino, discussed a potential crossover between Django Unchained and Zorro.
According to Business Insider, Pascal takes the old flattery approach. She allegedly explains to Tarantino how much she enjoys his work and then asks if they can find some time to get together and talk about doing a cross-over between Django and Zorro.
Yes, the email was annoyingly written in all caps, but Tarantino still expressed interest in his response and said it sounded like fun. And it'd be a fun pair for fans to watch on screen as well. Of course the two heroes mentioned, in case you don't know are Django, who most recently appeared in 2012 film Django Unchained starring Jamie Foxx and Zorro. Django was originally a character who appeared in a number of spaghetti westerns, the first self-titled in 1966. The westerns take place after the American Civil War, and Django, a dismissed Union soldier gets caught up in a violent race war. The modern Tarantino version takes place before the Civil War, and Django Freeman, a freed slave, pairs with a German bounty hunter in search of his wife, and the two basically end up going to war with a nasty plantation owner. The character is super badass and becomes quite the gunslinger.
And then there's Zorro, which came even before Django. The character first appeared in 1919 in a pulp magazine series, and later turned into books and eventually adapted in over forty films. The most recent being The Legend of Zorro starring Antonio Banderas. The character has a very distinct look, with a black-clad mask and cape. He's an outlaw that defends people against tyrannical officials and other villains with a knack for publicly humiliating them.
There is already so much material on both these characters, that a film combining them would be an incredible feat. But, if anyone has the ability to conquer it, it's definitely Tarantino. Not only did he direct Django Unchained, but also Tarantino has already done some work pairing up the two outlaws. As a follow up to his film, Tarantino created a comic book series entitled "Django/Zorro". The series is set several years after the events of Django Unchained when Django goes on a bounty hunt and encounters the famed Zorro. Zorro becomes a mentor to Django and the two start to work together.
With all this work Tarantino is doing on the comic, writing a screenplay shouldn't be too difficult. And it could bring about potential for a entire new series of movies including this bound-to-be dynamic duo. Fan of old westerns will be excited to watch some of their favorite classic characters brought to life once again, and for others it will be interesting to see these characters set in the styles of modern film. In separate emails discussing the plans for Sony's future movie schedule the crossover is dated to come out sometime in 2017.
Your Daily Blend of Entertainment News
Thank you for signing up to CinemaBlend. You will receive a verification email shortly.
There was a problem. Please refresh the page and try again.